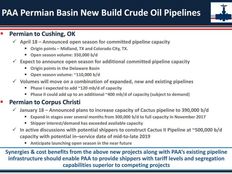 Source: Plains All American Pipeline
You'll notice from looking at the above slide that PAA is building Permian takeaway capacity both to the Gulf Coast and to Cushing, Oklahoma. Almost all the increased production flowing out of the Permian is expected to go to the Gulf (as evidenced by existing infrastructure and project announcements for new pipeline or expansion projects), but Plains believes there will be Mid-Continent refiners that will drive demand for Permian light crude to Cushing.
Efficiency More Important Than Oil Prices
While most of us in the energy industry wouldn't mind seeing $100/bbl oil again, PAA executives explained that reaching this price point isn't really needed for growth. Thanks to new technologies, wells are being drilled two times faster and seeing three times as much production. Because of this, even with oil prices hovering around $50/bbl there is still incentive for producers to drill and therefore a need for midstream services.
---
Content continues below advertisement