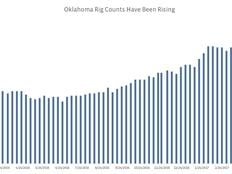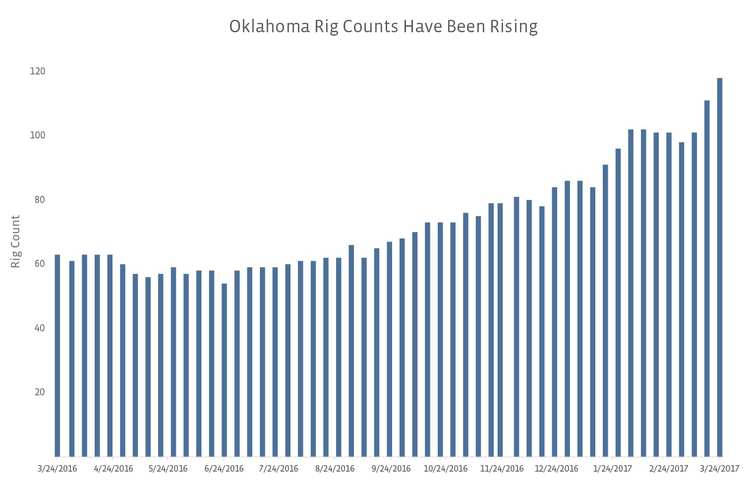 Source: Baker Hughes
Devon Energy (DVN) made a point of focusing its assets on the STACK (and the Delaware Basin in the Permian) during 2016. Now, they are breaking their own records for well productivity.
EnLink Midstream Partners (ENLK), the midstream company that provides takeaway capacity for DVN and others, expects that Central Oklahoma will be its largest contributor in 2017, edging out North Texas. Once it has built up enough of a cash cushion, ENLK expects to resume distribution growth in 2018.
But a midstream MLP doesn't need an Upstream parent to participate in the play. Cheniere Energy Inc (LNG), best known for its LNG facilities, also owns pipelines. It recently launched an open season for their Midship Project, a natural gas mainline that will deliver natural gas from the STACK and SCOOP to the Gulf Coast and Southeast hubs. The 200-mile, 36-inch pipeline will receive gas from processing plants and deliver it to sites of Gulf Coast demand.
Cheniere isn't alone in seeing the opportunity here. Enable Midstream Partners (ENBL) sees two opportunities and is also conducting two open seasons. One project, like LNG's Midship Project, will take natural gas to Southeastern markets. The other will move natural gas west.
Both companies' open seasons end this week.
Investors often ask which names are best for pure exposure to a particular basin. Unfortunately, I rarely can provide them that information, but fortunately, the reason I can't is that most midstream names are geographically diversified. ENLK and ENBL both have strong presences in Oklahoma, but don't forget, ENLK also has assets and significant growth opportunities in the Permian. ENBL serves customers throughout the Gulf Coast, Mid-Continent, and the Southeast. An investment in either company would give you exposure to more than just the SCOOP and STACK.
---
Content continues below advertisement