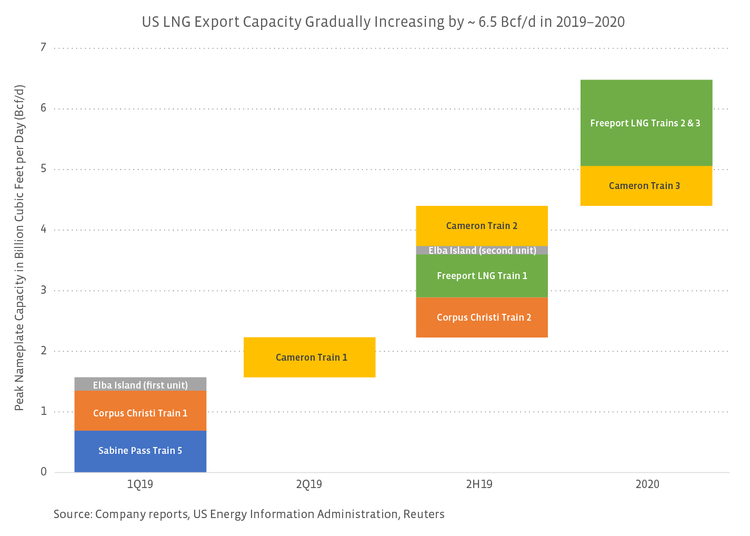 ---
Content continues below advertisement

Several projects may be knocking on the door in terms of reaching final investment decision. Specifically, Tellurian's (TELL) Driftwood LNG project received the final Environmental Impact Statement (EIS) from the FERC on January 18. TELL expects to reach FID and begin construction in the first half of this year. SRE announced that its Port Arthur LNG project received the final EIS from the FERC on January 31. SRE's LNG projects are expected to be a featured topic at the company's analyst conference later this month.
Three LNG export projects expect to receive a final EIS in 2Q19, which would bring the projects closer to potential FID this year. These include NextDecade's (NEXT) Rio Grande project, Venture Global's Plaquemines facility, and Annova LNG's Brownsville project. All three projects are expected to reach FID in 2H19 based on company commentary.
Other projects have received FERC approval but have not reached FID. A key priority for Cheniere in 2019 is reaching FID for Train 6 at Sabine Pass. On their recent earnings call, the management of Energy Transfer (ET) was targeting FID for Lake Charles LNG in 1H20. Magnolia LNG has received FERC approval and is construction-ready but has not proceeded to FID. The map below shows the projects discussed above. Please note that this is not an exhaustive list of approved and proposed projects in the US, which are listed on the FERC's website in the preceding links.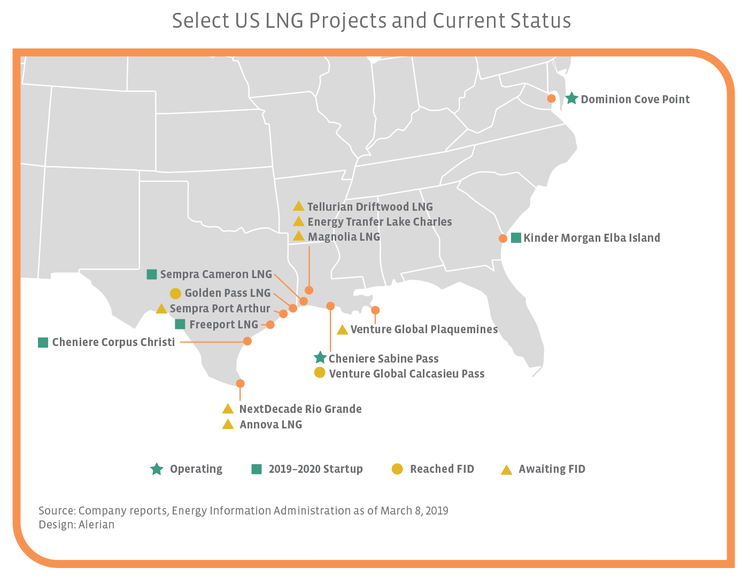 What about the impact of US-China trade relations on LNG exports?
Unsurprisingly, US LNG exports to China have tapered given the broader trade dispute and resulting 10% tariffs on US LNG. Exports to China fell from a peak of 25 Bcf in October 2017 to zero in September 2018. Volumes recovered in 4Q18 but were less than 10 Bcf per month. US-China trade relations have not slowed the overall growth in US LNG exports, which grew to a record-high 123 Bcf in December 2018. That said, the primary concern with the US-China trade dispute had been that US LNG project FIDs would be delayed by the inability of Chinese companies to sign purchase agreements amidst the ongoing uncertainty.
Media reports in recent days have indicated that the US and China are on the verge of reaching a deal. The Wall Street Journal reported that a trade deal would include an agreement for China Petroleum & Chemical Corporation (Sinopec) to purchase LNG from Cheniere under a long-term agreement. According to a Reuters article citing Sinopec's President, the company will proceed with agreements to purchase US LNG as soon as the Chinese government directs it to do so. If a deal can be reached, it would be beneficial for US LNG export projects. Obviously, there's a global market for LNG, with the US exporting to more than 30 different countries last year. However, China is the second-largest purchaser of LNG (after Japan), and undoubtedly, parties in both China and the US would like to see a robust LNG trade from the US to China.
Bottom Line
It's a dynamic time for US LNG exports as a wave of new capacity is brought online this year and into 2020, while the next wave of capacity reaches final investment decision. An improvement in US-China trade relations may further catalyze near-term FID announcements for projects waiting in the wings.