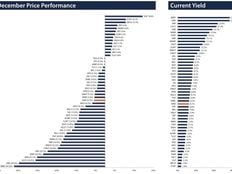 Rather than rolling December's review into our 2014 recap, I wanted to take some time and examine this month specifically.
It … wasn't great. On a total return basis, our flagship index (AMZ) was down 5.6% during December, and our most traded index (AMZI) was down 4.8%. It was the worst month since May 2012. We can never be sure why investors behave the way they do, but December performance was likely affected by tax loss selling and ongoing weakness in commodity prices.
Crude continued to fall – losing another 19.5% to $53.27 – and took upstream MLPs down with it. The six worst performers in the AMZ were all upstream MLPs, with BreitBurn Energy Partners (BBEP) leading the way at 47.0%. The only other upstream MLP in the index, Memorial Production Partners (MEMP), posted a 6.0% gain during December, good enough for fifth best in the AMZ. MEMP has a great deal of its production hedged: 88% through 2016 and 74% through 2019, providing more protection than other upstream MLPs, some of whose hedges roll off almost entirely by 2017. MEMP's board of directors also announced a $150 million unit repurchase program on December 18th, which gave investors additional confidence in the stock. For the full year, however, MEMP suffered along with other oil and gas producers, losing 23.5% on a total return basis.
The biggest company-specific news this month came out of Canada, with Enbridge Inc (ENB) announcing 2015 guidance, a 33% dividend increase, and most importantly, a restructuring. For those concerned about the energy infrastructure apocalypse, this announcement directly contradicts the Chicken Littles of the world. Even after the 33% dividend increase, ENB President and CEO Al Monaco announced management expectations for 14%-16% average annual dividend growth through 2018. For those focused on the company's MLP subsidiary, Enbridge Energy Partners (EEP), ENB proposed dropping down all of its US liquids pipelines to EEP, an announcement that was met with cheers from the investment community. EEP gained 6.4% during the month, and ENB gained 13.8%.
On the IPO front, EQT Corporation (EQT) announced plans to take public by mid-2015 its GP interest, IDRs, and LP unit ownership in EQT Midstream Partners (EQM). Investors continue to ascribe premium valuations to so-called pure play GPs like Western Gas Equity Partners (WGP) that own interests in high-growth LPs. Also announcing plans in December to take an MLP public in 2015 were CONSOL Energy (CNX), which will form a thermal coal MLP; and investment firm 40 North Management, which filed an S-1 for a renewable power generation MLP.
And finally, one sponsor decided to brave the choppy waters and take an MLP public in December. Rice Midstream Partners (RMP) priced 28.75 million units at $16.50, below the expected $19$21 range but still at a respectable 4.55% yield. While some investors were surprised that the IPO yield was nearly 200 basis points below Antero Midstream Partners (AM), another Marcellus midstream operator with an E&P sponsor and high growth projections that had gone public just a month before, RMP priced into a weaker commodity environment and its sponsor is also more highly leveraged.
So, yes, December was a time when investors wrung their hands, worried, fretted, and maybe even panicked a little. But RMP and its bankers decided December was an appropriate time for an IPO, and three other firms announced their plans to take an MLP public in the near future. Chicken Little, Goosey Loosey, and Turkey Lurkey may all think the sky is falling, but the Kings and Queens of MLPs see only acorns.
On a different note entirely, the Alerian family grew by one! On December 16th, Preston Patredis arrived: 21 inches, 7lbs 13oz. The whole family is happy and healthy. Those of you who have gotten used to Karyl answering the phone will have to put up with the rest of us while she enjoys this time with her family.
---
Content continues below advertisement