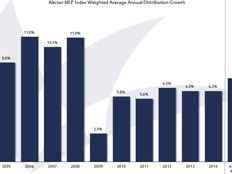 So that's what did happen, but investors are more concerned with what will happen. In general, MLPs and energy infrastructure companies reduced guidance for 2015 during their reporting of fourth quarter results. But the consequences of these changes in management projections due to the commodity environment varied from company to company.
Magellan Midstream Partners (MMP) lowered its distributable cash flow guidance for 2015, citing a revised oil price assumption of $50 as the culprit. But management reaffirmed its intention of raising the distribution by 15% in 2015, coverage ratio guidance was lowered but remained ample at 1.2 times, and expected growth capex of $650 million in 2015 is largely consistent with the $703 million spent last year. As a result, MMP outperformed both the AMZ and its midstream peers in the Alerian MLP Infrastructure Index (AMZI) by nearly 500 bps each in February.
The ONEOK family, meanwhile, had a tougher month. ONEOK Partners (OKS) cut its 2015 distribution growth guidance to 3%-5% from 8%, while general partner ONEOK Inc (OKE) lowered dividend growth guidance to 4%-8% from 14%. The drop in commodity prices forced management to recalibrate its spending expectations for 2015, with expected growth capex cut by more than half to $1.1 billion. The construction of natural gas processing plants has been suspended in the Williston Basin in North Dakota, the Mid-Continent in Oklahoma, and the Powder River Basin in Wyoming until conditions improve.
Two general partners felt confident enough about the growth prospects of their underlying MLPs despite the environment to file initial S-1s: EQT GP Holdings (EQGP), which owns LP and GP interests and incentive distribution rights in EQT Midstream Partners (EQM); and Tallgrass Energy GP (TEGP), which owns similar stakes in Tallgrass Energy Partners (TEP). Notably, despite being legally structured as a pass-through entity, TEGP has made a corporate tax election. TEGP will join EnLink Midstream LLC (ENLC) and Plains GP Holdings (PAGP) in doing so, and unitholders will receive dividends instead of distributions and a Form 1099 at the beginning of the year instead of a Schedule K-1.
MLP guidance in 2015 has not been the runaway growth that some investors have come to expect, but most companies are still growing. For years, Alerian has told investors to expect a 5%-7% yield plus 3%-5% distribution growth from their MLP investments, and they are on track to (again) beat our conservative baseline. The box of MLP chocolates is still sweet and thoughtful, even if there is the occasional orange-goo-filled chocolate.
---
Content continues below advertisement