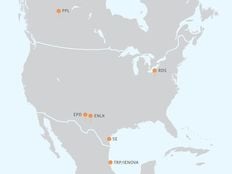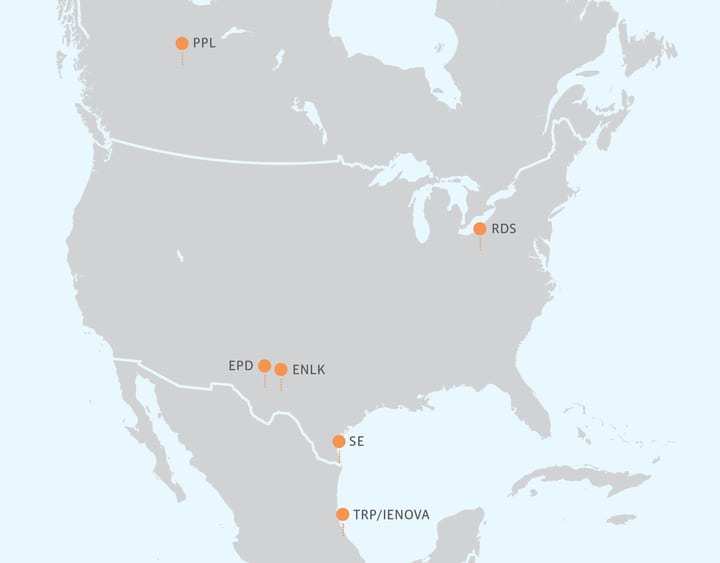 Since I am obliged by the "What Happened" moniker to at least mention the biggest news of the month: regarding the merger between Energy Transfer Equity (ETE) and The Williams Companies (WMB), the Delaware Chancery Court ruled that ETE could terminate the merger, then the merger was approved by WMB shareholders, and then it was promptly terminated by ETE. In response, six WMB board members resigned, some with quite colorful letters. At the end of the day: having certainty (although WMB is of course appealing) is the best outcome, but WMB has previously announced that if the merger does not go through, Williams Partners (WPZ) may need to cut its distribution.
Before I can get on with the good news, I should warn you this isn't a Pollyanna month. Oilfield bankruptcies are still high, and some midstream companies are still renegotiating contracts and unsuccessfully trying to ask for collateral from producers. Brexit, the worldwide surprise, hurt the British pound, which strengthened the US dollar, which hurt crude prices, which put a damper on MLP performance—for a few days, at least. Even looking over the potential IPO schedule, two registrations have been withdrawn: Mammoth Energy Partners and Terryville Mineral & Royalty Partners.
Bad news always gets the best media ratings, but for a long term MLP investor, the big news in June was the aggregated effect of announcements of projects by MLPs and energy infrastructure companies alike. The opportunity set has long been known, but a combination of uncertainty, lack of access to capital, and general market skittishness stopped most of the activity during the past year or so.
The Marcellus shale takes the cake for largest need for additional infrastructure. The area is already a net exporter of natural gas, but still needs additional projects to provide decongestion around the area. Additionally, there is a clear need for NGL storage facilities, specifically ethane storage. This month, Shell (RDS) announced final plans to construct a major petrochemical facility near Pittsburgh, Pennsylvania. While construction will not begin until 2018, and the facility will not come online until the 2020s, it intends to use the ethane produced in the Marcellus and Utica shales. While the site was originally chosen in early 2012, discussions and rumors about a proposed Marcellus facility have been happening for even longer. Much like with the resolution of the ETE/WMB merger, investors are simply glad that a decision has been reached and a timeline has been established.
In the Permian, concerns about potential overbuild may be overblown. EnLink Midstream Partners (ENLK) is building a $70-$80 million crude oil gathering system in the Midland Basin. However, I would like to note that the announcement of this project does not imply that all existing Permian assets are operating at capacity. And while most investors think of oil when they consider the Permian, Enterprise Products Partners (EPD) will be building a cryogenic natural gas processing plant in the Delaware Basin. (The Midland Basin and the Delaware Basin are two major and distinct areas within the greater Permian.) According to a recent EIA report, Permian production per rig of both oil and natural gas is expected to increase, while overall production is still expected to fall slightly. Still, these two MLPs see a need for further infrastructure and believe these particular projects will be profitable.
To the north, Pembina Pipeline (TSX: PPL; NYSE: PBA) will be building additional infrastructure around its natural gas processing facility in the Duvernay shale. Long term, fee-for-service agreements have already been signed to support these new assets (which include field handling assets and a gathering trunk line).
And to the south, TransCanada (TRP) and IEnova (IENOVA) have announced a $2.1 billion USD natural gas pipeline in Mexico. It is backed by a 25-year contract with Mexico's state-owned power company. Both companies will own and operate the pipeline, with TRP taking a 60% interest, and IEnova a 40% interest. (IEnova is a Mexican subsidiary of Sempra Energy (SRE).) Spectra Energy (SE) will also be building to support Mexico's infrastructure, as it announced a $1.5 billion natural gas pipeline which runs to the Mexican border where it will then connect with TRP and IEnova's new pipeline.
The need for new infrastructure (and the opportunities for MLPs and their investors) are not limited to only one region or hydrocarbon play. This year may have begun in fear, but now, halfway through 2016, these fears have subsided enough that business as usual may again resume.
---
Content continues below advertisement