Is it a trend? Well, one data point is not a trend until other companies follow. However, it does go against a noticeable MLP trend: when a small cap MLP is taken out, it's nearly always taken out by a large-cap MLP. The most similar historical merger would be the Crestwood-Inergy merger in 2013 which combined two mid-cap names to create a larger, more vertically integrated MLP providing nearly all necessary midstream services (gathering and processing, transportation, storage) to their shale customers.
Counterpoint to AMID-JPEP starting a small-cap with small-cap merger trend: they share a general partner in ArcLight Capital Partners, so despite the benefits of economies of scale and vertical integration, this merger could simply have been driven by ArcLight's desire to have the same assets, but one less public company.
The benefit to unitholders of the ArcLight sponsorship is that while public owners get 0.5775 units of AMID for each unit of JPEP, ArcLight only gets 0.5225 AMID units. Said another way, ArcLight is taking a 9.5% discount to what the public's getting. Said a third way, it's the blended price of 0.55 units that's generally used to determine the deal's premium, but the public is actually getting a slightly better deal.
Speaking of sponsors, financing can also be an impediment to mergers, and small-caps typically have more difficulty than their bigger siblings. In the case of AMID-JPEP, it was an all-unit deal, so financing wasn't a factor. However, for other companies looking to merge, a strong sponsor can help with debt or cash, if necessary.
How many other small-cap to small-cap midstream mergers can make sense right now? Sorting through the 59 constituents of the Alerian Small Cap MLP Index (AMSI), there are only 21 midstream names, which are listed below.
, but it takes less for management to move the needle.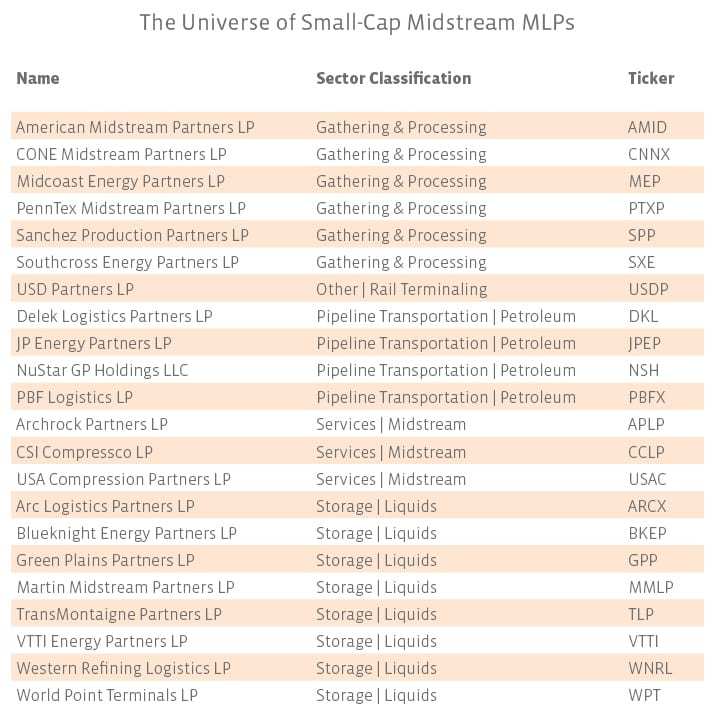 So, if you do believe this is a trend and want to start searching for the next candidates, here are some potential drivers of a small-cap MLP merger.


Valuation Disparity


Growth Potential


Shared Sponsor


Geographic Diversity


Asset Diversity
As an employee of an objective indexing firm, I cannot comment on valuations, or even speculate about the next merger. However, if you're looking for other shared sponsors among the small-cap MLPs, I'll share a fun fact: earlier this year, ArcLight became the GP of TransMontaigne Partners (TLP). It's the only other one.
---
Content continues below advertisement