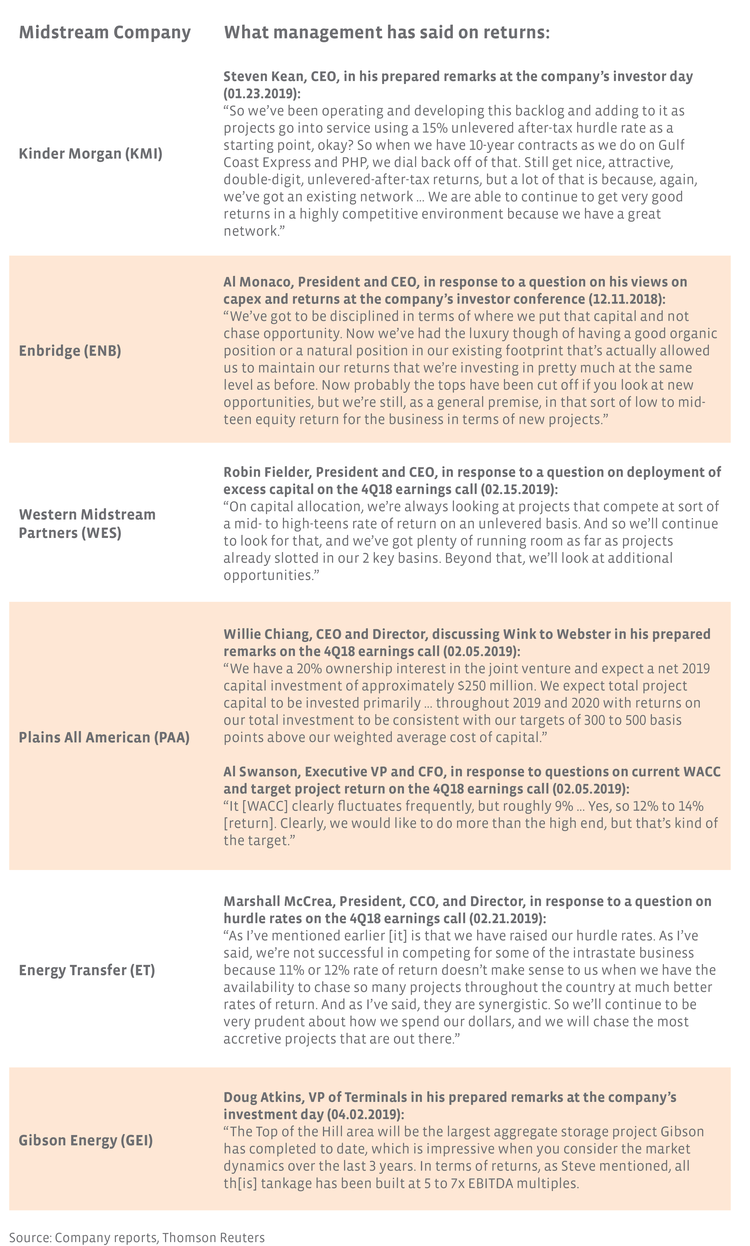 Some companies express their expected project returns as an EBITDA multiple. MMP stated in a recent conference presentation that it is targeting a 6-8x EBITDA multiple for its $1.25 billion growth capex backlog. ONEOK (OKE) expects to achieve a 4-6x adjusted EBITDA multiple for several projects slated for completion by 1Q20, including liquids pipelines and gas processing plants. To simplify EBITDA multiples, take for example a pipeline that costs $500 million to build with an expected 7x EBITDA multiple. The project would generate an estimated $71.4 million ($500 million divided by 7) in annual EBITDA. Directionally, the lower the EBITDA multiple for building a project, the better the implied return.
Notably, several management teams cited integration as a key driver of outsized returns on growth projects. Existing pipeline or terminal infrastructure may create a competitive advantage for a company pursuing a new or bolt-on project, enhancing returns relative to a standalone project. Leveraging existing assets is another means to realizing stronger returns. For example, the reversal of the Capline crude pipeline, jointly owned by Plains All American (PAA), BP (BP) and MPLX (MPLX), should drive higher returns than a newbuild project. With pipe already in place, PAA expects greater cost-efficiency and returns "significantly higher" than their typical threshold as discussed on the 4Q18 earnings call. Employing a network of existing assets or optimizing assets by combining them in strategic joint ventures should continue to improve project returns and capital efficiency.
Project returns look attractive given current company and asset valuations.
Given the relatively low EBITDA multiples for building energy infrastructure projects, the implied return is attractive and expected to create value for midstream companies. For context, the weighted average forward EV/EBITDA multiple for the Alerian Midstream Energy Index (AMNA) was 10.8x as of April 8, 2019. If midstream companies can build projects at a 4-8x EBITDA multiple, project backlogs should be expected to make a positive contribution on future company value. In addition, assets continue to be sold to private equity companies at a premium to the cost of building a project and a premium to where midstream equities trade. Recently, Williams (WMB) formed a $3.8 billion joint venture with the Canada Pension Plan Investment Board (CPPIB), with WMB contributing assets in the Marcellus and Utica. CPPIB is estimated to have paid 14x 2019 EBITDA for its stake in the venture. Similarly, SemGroup (SEMG) sold a 49% stake in its Maurepas crude pipeline system to Alinda Capital Partners at a 13x EBITDA multiple last year. Midstream companies will continue to create value if they can invest in assets at 4-8x EBITDA, whether or not they sell them at double-digit multiples.
Bottom Line
In contrast to investing in projects for the sake of growth alone, midstream's focus on obtaining solid project returns while maintaining capital discipline should be a positive sign to investors. Increasing competition for attractive investments within midstream further enhances the need for a high level of discipline. As investors seek more capital-efficient companies across energy, midstream management teams that retain a disciplined approach to capital expenditures will likely be rewarded.
---
Content continues below advertisement