The iShares MSCI EAFE ETF (EFA A) debuted in the latter half of 2001 and quickly rose to fame in the ETF world. The ETF was the first of its kind, offering significant exposure to developed markets outside of the U.S., thus helping investors add a more global perspective to their portfolio. Now, EFA is among the largest ETFs in the world with tens of billions in assets under management.
Below, we detail the complete history of EFA, including the need-to-know stats and performance metrics since its inception:
Year by Year
EFA has traded 13 complete calendar years and was able to go positive in nine of those stretches.
---
Content continues below advertisement
Looking at the monthly price performance of EFA gives more details on where the fund has struggled and excelled, as the 2008 market crash had an especially harsh impact on the ETF.
Diving further into EFA's performance, we look at its best and worst single trading sessions:
Despite the fact that EFA was in the midst of a massive correction, it still posted most of its best sessions during the 2008 sell-off. Of course, these were all coupled with days that saw painful losses, as shown below:
EFA's Volatility
Though the fund has had some turbulent times, most of its volatility has been contained in blocks, as the ETF has been relatively stable over time, moving by 1% or less nearly 64% of the time.
Here's another way to look at the daily change of EFA and its relative volatility over time: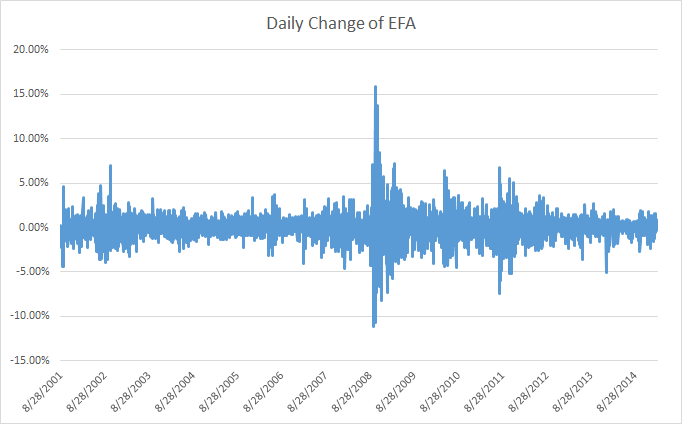 Finally, we look at EFA's highest volume sessions, as they often coincide with large movements or volatile bouts:
A Look to EFA's Future
Looking ahead for EFA, the fund has managed an average annual return of 8.30% thus far. Should it continue that trend, here is what its price will look like over the next few decades:
Finally, anyone looking to invest in EFA for the future may want to take a look at how well it has done in the past. The following chart displays how much money you would have today had you invested $100,000 on EFA's first trading day on 8/27/2001.
[For more ETF analysis, make sure to sign up for our free ETF newsletter]
Disclosure: No positions at time of writing.