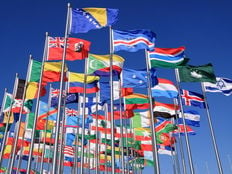 International ETFs refer to all ETFs that invest in securities domiciled outside of the U.S. and are not in emerging markets. U.S. investors increasingly look outside of their own borders for diversification benefits, and international ETFs allow investors to broadly invest in the progress and prosperity of other nations. Below are our best articles that highlight and analyze international ETFs that are available for U.S.-based investors.
International ETFs
2015-09-04
Historically, dividends have been a major source of the stock market's overall total returns, and...
International ETFs
2015-08-07
Dividend focused strategies have become increasingly popular over the years. One fund in...
International ETFs
2015-08-04
When it comes to picking an ETF, many investors stick with the big dogs. The largest market-cap...
International ETFs
2015-04-24
The iShares MSCI EAFE ETF (EFA A) debuted in the latter half of 2001 and quickly rose to fame in...
International ETFs
2015-04-23
On March 12, 1996, iShares launched a suite of 17 single-country focused ETFs, all of which still...