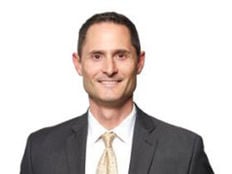 Since our last interview earlier this year with the Executive Vice President and Head of ETFs at Sprott Asset Management, John Ciampaglia, a lot has changed in the world of gold. After a small setback in late May and early June, gold has continued its uptrend and is up more than 25% YTD. Gold miner companies increased in value even more, especially junior gold miners. Below, we'll take a look at what's behind this continued rally.
ETFdb.com (ETFdb): What are the main reasons gold decreased in price in late May and early June? And why has the rally come back since then?
John Ciampaglia (J.C.): Gold and silver have had an incredible year in 2016. After a multi-year bear market, investor interest in precious metals has reignited. From mid-January to early May, we had a strong rally which was fuelled by a number of macro and global factors. When we look back at previous rallies, it is typical to see pullbacks around 4-5 months into the cycle, so it's not surprising to us that prices cooled off in May. Technical resistance levels can also trigger these pullbacks, which are healthy and help to sustain a bull market.
There are a number of reasons why the bull market in precious metals has resumed:
The soft U.S. non-farm payrolls report on June 3 quickly changed expectations for further interest rate increases by the Federal Reserve. Market participants now forecast that it is unlikely to see an increase until sometime in 2017.
The amount of negative yielding sovereign debt around the world is staggering and growing each week – recent stats show there is more than $10 trillion

USD

of government bonds with negative yields. Think about this concept for a minute: If you are a saver in a country like Japan, Denmark or Switzerland and want to invest in a government bond, you will get less back than what you originally invested when the bond matures! In this unheard of environment – alternative stores of value like gold and silver look much more attractive to investors.
Brexit – the shocking outcome of the referendum has clearly spooked investors. The sharp sell-off in the British pound, along with the lingering uncertainty caused by the inevitable divorce with the EU, has pushed investors to safe-haven assets like gold.
---
Content continues below advertisement
ETFdb: Last time we spoke, silver was lagging behind gold YTD. It now looks like silver has surpassed gold's performance YTD and jumped up over 10% at the end of June. What are some main reasons for silver's massive rally?
J.C.: Gold is a monetary metal or alternative currency and investors view it as a safe-haven asset. At the beginning of the year, gold was the first precious metal to move higher. Silver possesses some of the same investment qualities as gold, but is largely consumed in a wide range of industrial uses. Despite its slow start, silver is the best performing metal so far in 2016 – up 48% versus 28% for gold. Silver tends to be a leveraged investment to gold and we have seen a huge increase in the demand for silver as an investment. Dollar inflows into silver ETFs are at all-time highs, with an incredible 41 million ounces of silver being added in 2016. As gold prices go higher, we expect that individual investors will opt for silver as a more affordable option to own precious metals.
ETFdb: How big of a market catalyst for gold and silver prices was the Brexit vote on June 23?
J.C.: In the short term, Brexit was a powerful catalyst to push precious metals and mining stocks higher. The markets had overwhelmingly priced in a "remain" outcome and responded swiftly. There will be lingering uncertainty for some time as Britain and the EU negotiate the divorce, but we expect the Brexit effect will dissipate over time.
ETFdb: Gold and silver miners ETFs are among the best performing non-leveraged funds so far this year. In fact, according to our screener, as of August 2, 2016, your two miners ETFs (SGDJ and SGDM) are among the 8 best non-leveraged ETF performers YTD. What are the main reasons mining companies continue to outperform the underlying precious metals' prices?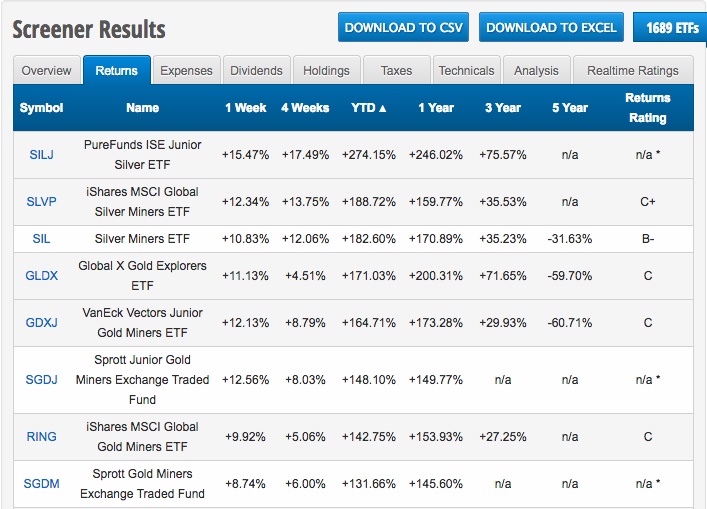 J.C.: In a rising gold price environment, gold stocks have the potential to outperform gold for a couple of key reasons. First, the value of unmined gold reserves increases, making gold companies more valuable to investors. Think of this as a low cost call option on future gold production.
Second, the profitability of gold companies can rise exponentially relative to the price increase for gold. This is due to the inherent operating leverage that mining companies have.
Let's look at an example of a company producing 1 million ounces of gold a year:
Gold @ $1,100 oz Gold @ $1,300 oz
| | Gold @ $1,100 oz | | Gold @ $1,300 oz |
| --- | --- | --- | --- |
| Annual Gold Production in Ounces | 1 million | Annual Gold Production in Ounces | 1 million |
| Annual Revenue | $1.1 billion | Annual Revenue | $1.3 billion |
| Cost of Production @ $850 oz | $850 million | Cost of Production @ $850 oz | $850 million |
| Net Profit | $250 million | Net Profit | $450 million |
In this illustration, an 18% increase in the price of gold translates into an 80% increase in profitability for the company. In the current market environment where company earnings are growing slowly, gold stocks will look like growth stocks in 2016.
Gold and silver companies are also benefiting from the restructuring and cost cutting they implemented during the bear market. Combined with the lower cost for diesel, a key cost input for miners, companies are in much better financial shape to reap the rewards from higher metals process. As a result, we expect to see material improvements in earnings for gold and silver companies in 2016 and beyond.
For investors interested in gold miners, consider the Sprott Gold Miners ETF (SGDM B-) and the Sprott Junior Gold Miners ETF (SGDJ C+).
ETFdb: Do you expect gold prices and mining companies (especially juniors) to continue this rally for the rest of the year? Or is it too late to get in the trade now?
J.C.: We've had an incredible rally this year, so we don't expect the gains will continue at the current pace. Nonetheless, the macro factors driving the current bull market are very powerful and we believe that we are in the early innings of a new bull market. If we look at sentiment-based indicators – gold mining stocks remain under-owned by investors which can be supportive for higher valuations. Secondly, we expect earnings to improve this year as gold companies benefit from the higher gold price and the cost cuts they have implemented over the past few years. As the rally continues, we would expect to see renewed merger and acquisition activity as larger companies look to add to their gold reserves.
ETFdb: What type of investor should hold gold miners ETFs such as SGDJ and SGDM?
J.C.: We believe most investors should allocate between 5-10% of their portfolio to precious metals – through a combination of the metals and the miners in some proportion, depending on personal considerations. If investors are bullish on gold, than gold stocks offer the potential to provide additional returns for 2 reasons: gold companies become more valuable as the value of their unmined gold reserves increases and the profitability of gold companies can rise exponentially relative to the price increase for gold. "Junior" gold stocks are more risky than the "senior" gold producers because junior companies are often smaller producers or are still in the pre-production phase.
The Bottom Line
Given the sharp rise in precious metals this year, gold and silver miners have increased in value even more due to their operating leverage. As a result, silver and gold miners ETFs have the best YTD performance among non-leveraged funds. Investors who'd like exposure to gold miners companies can check out Sprott Asset Management's two ETFs specialized in the industry. Investors can also find the full list of gold miners ETFs here.
Follow me on Twitter @kirilnikk.