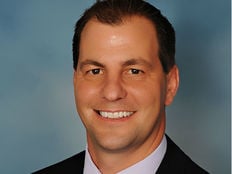 Reality Shares launched another blockchain-related ETF. Though this time, it's focused on a leader in the space: China. In this Q&A, we talk to the CEO of Reality Shares, Eric Ervin, about his view on China's involvement in blockchain technology. We also discuss the details regarding the Reality Shares Nasdaq NexGen Economy China ETF (BCNA) that was launched in June of this year.
New ETF Launch
ETFdb.com: Can you describe the kinds of companies that are in your newly launched Reality Shares Nasdaq NexGen Economy China ETF (BCNA).
Eric Ervin (E.E.): BCNA tracks the Reality Shares Nasdaq Blockchain China Index, which seeks to identify and invest in Chinese companies committing material resources to developing and implementing blockchain technology. The Index is comprised of 32 constituents spread across a variety of industries including information technology, consumer staples and manufacturing.
Leading portfolio holdings include some of the top blockchain innovators such as YGSOFT, GRG Banking Equipment and Hundsun Technology. YGSOFT has applied blockchain technology to group management, smart energy, smart products and social interconnection. The company has already introduced application products based on blockchain, such as trusted electronic certificates and an authentication wizard for identity verification and security. GRG Banking Equipment has introduced blockchain-related products such as ATMs, which provide exchange services for digital currencies, along with hard wallets for storing cryptocurrencies. Hundsun Technology is a leading fintech company consulting with China's institutional securities, banking and insurance industries to implement blockchain technology solutions. Also of note, the biggest stakeholder in the company is Chinese billionaire Jack Ma, who founded e-commerce giant Alibaba (another BCNA holding).
---
Content continues below advertisement
Country Involvement in Blockchain
ETFdb.com: Why the focus on Blockchain companies in China? Do you see China as one of the leaders in this space?
E.E.: Yes, China has emerged as one of the clear leaders in the blockchain industry and is investing in the space aggressively. For instance, in 2017 China filed for more blockchain-related patents than any other country in the world. China is far ahead of the curve; in fact, the country has filed more patents than the next two countries combined (the U.S. and Australia). The Chinese government is also firmly backing blockchain investment and has stated it will be an integral part of the country's latest 5-year plan.
Stepping back from blockchain, China as a whole still holds a great deal of untapped potential. For instance, of the $3 trillion in total ETF assets, U.S.-listed China-focused ETFs only make up $16 billion. Among those ETFs, only around $3.2 billion – 20 percent – have exposure to Mainland China A-shares (source: Bloomberg).
Furthermore, the equity market in mainland China is the second largest in the world in terms of market capitalization, with assets valued at over $8.5 trillion. MSCI's recent stamp of approval on including China's A shares in its benchmark indexes is only going to boost demand.
ETFdb.com: Are there other countries that you think are leading the way in Blockchain innovation?
E.E.: Other than China, the world leaders, the U.S. and Japan, are also global leaders in blockchain innovation. These three countries represent the majority of the portfolio constituents in BLCN.
Future of Blockchain
ETFdb.com: Cryptocurrencies are clearly in a bear market right now. Does this in any way affect your long-term view on Blockchain technology and its implications on the future?
E.E.: When it comes to blockchain and cryptocurrencies in general, it's important for investors to understand we are now in the very nascent stages of development. This investment needs to be approached from a long-term perspective. The institutional money is barely starting to flow into the asset class now, so it may be a matter of time before the true growth potential is unlocked.
As with all new technologies, there is bound to be volatility. But volatility ultimately creates buying opportunities for investors. Current market conditions are prime for investment. Market corrections are healthy. With no bear markets, we would have no corrections and no buying opportunities for long-term investors, the sign of an unhealthy market.
Regulation
ETFdb.com: Were there any regulatory issues when launching your second Blockchain-focused ETF this time around?
E.E.: The only continuing issue is still not being allowed to include "blockchain" in the ETF name, which is a guideline implemented by the SEC and applicable to all issuers. Other than that, the launch of BCNA was very straightforward.
ETF Market
ETFdb.com: Since last time we spoke, your first ETF-focused on Blockchain companies (BLCN) has seen over $100 million fund flows and is Reality Share's largest ETF, in terms of AUM. What does that tell you about the interest in Blockchain technology from ETF investors?
E.E.: We believe blockchain has the potential to be as disruptive as the Internet. Investors are beginning to realize and understand the immense potential behind the technology, especially knowing that we are still only scratching the surface and are still in the very early stages. BLCN provides an opportunity to enter the space relatively early on and to make a long-term investment in the technology's potential across sectors and the globe.
Since launch, BLCN surpassed $120 million in assets. Recognizing the global demand for this transformational technology, in addition to understanding that China is currently the world leader in blockchain technology innovation, we also launched a follow-up ETF to give investors exposure to mainland Chinese companies innovating in the space. Between BLCN and BCNA, investors have the potential to gain exposure to both the global blockchain technology scene and the Chinese blockchain ecosystem for a more focused investment.
ETFdb.com: What other Blockchain- or other technology-related opportunities do you see for the ETF market that's underserved?
E.E.: There is clearly plenty of pent-up demand for Bitcoin and crypto-specific ETFs, the logical next step from blockchain technology-related ETFs like BLCN and BCNA. While the SEC still has not approved a Bitcoin ETF at this point, with the recent decrease in cryptocurrency market volatility and the introduction of futures and institutional-grade services, it's only a matter of time before such a fund comes to market.
Other than cryptocurrencies and blockchain technology, a few areas of focus for the ETF industry in the next few years include: 5G wireless technology, artificial intelligence, machine learning, and virtual reality.
The Bottom Line
The CEO of Reality Shares believes China is the leader in the blockchain technology space. Hence, the reason this issuer launched a second ETF focused on Chinese blockchain-related companies. This technology is still in the "very nascent stages of development" with significant potential. Investment in this space should be done with a long- term perspective in mind.