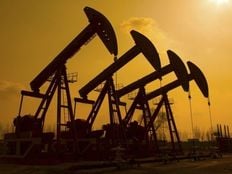 It was a wild year for commodity ETFs, as a number of of hard assets were all across the board for 2014. As an overall asset class, commodities took a back seat to equities, as the U.S. bull market trudged on for a sixth year. Bonds also gobbled up some of the limelight with all eyes on the Fed and what would happen with interest rates. Still, a number of commodities poked their way through headlines with energy becoming a marked theme towards the end of the year [for more ETF new and analysis subscribe to our free ETFdb Daily Roundup].
To help investors get a better idea of how commodities performed over the year, we present the 10 best and worst commodity ETFs based on 2014 performance. Note that for this list we have excluded leveraged and inverse products.
The Best Commodity ETFs
---
Content continues below advertisement
Coffee funds took two of the top three spots for 2014, as the commodity saw its price soar early in the year after supply continually failed to meet demand. The soft commodity has been relatively range-bound over the last few months, but its hot start to the year was enough to put it on the top of the list. Feeder cattle and live cattle futures both had strong 2014 outings, helping two livestock funds hit the top list. Finally, palladium rounds out the the list as the only precious metal to turn in positive results this year.
The Worst Commodity ETFs
As was expected, energy dominated the worst performing commodity ETFs, as the last few months have been downright miserable for some assets. With global supply outdoing that of demand, crude oil has had an especially hard few months which has infected the entire energy space and broad-based funds [see also 25 Ways To Invest In Crude Oil].
Below, we outline every fund that is mentioned in the above charts.
| ETF | YTD Performance |
| --- | --- |
| Global Carbon ETN (GRN ) (GRN) | 45.62% |
| Dow Jones-UBS Coffee ETN (JO ) | 43.96% |
| Pure Beta Coffee ETN (CAFE ) | 41.59% |
| Pure Beta Livestock ETN (LSTK ) | 26.83% |
| E-TRACS UBS Bloomberg CMCI Livestock ETN (UBC ) | 19.87% |
| DB Base Metals Long ETN (BDG ) | 12.97% |
| DB Agriculture Long ETN (AGF ) | 11.79% |
| Pure Beta Nickel ETN (NINI ) | 9.17% |
| Pure Beta Cocoa ETN (CHOC ) | 7.55% |
| Physical Palladium Shares (PALL ) | 8.60% |
| United States 12 Month Oil (USL ) | -36.01% |
| DB Crude Oil Long ETN (OLO ) | -37.00% |
| Rogers Intl Commodity Enrgy ETN (RJN ) | -38.13% |
| Pure Beta Crude Oil ETN (OLEM ) | -38.20% |
| DB Energy Fund (DBE ) | -38.49% |
| United States Oil Fund (USO ) | -39.58% |
| United States Gasoline Fund LP (UGA ) | -39.70% |
| DB Oil Fund (DBO ) | -40.36% |
| S&P GSCI Crude Oil Tot Ret Idx ETN (OIL ) | -42.56% |
| United States Brent Oil Fund (BNO ) | -46.65% |
The Bottom Line
After another wild year, commodities will likely remain in the forefront for 2015 with energy leading the pack and popular metals like gold and silver not far behind.
Follow me on Twitter @JaredCummans.
[For more ETF analysis, make sure to sign up for our free ETF newsletter]
Disclosure: All data as of 12/17/2014. No positions at time of writing.