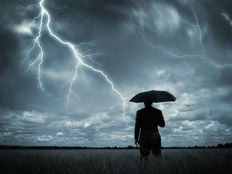 The bulls remained in the driver's seat throughout the course of 2014, despite the bears' growing frustrations and countless pundits calling for a market top.
Major equity indexes were able to continue their ascent on the home front thanks to a pickup in the labor market recovery and supportive measures from the Fed, including a pledge to maintain an accommodative monetary policy. Amid the rally on Wall Street, however, several key price drivers turned against a number of major asset classes [see also The Best and Worst All-ETF Portfolios of 2014].
Below, we highlight the worst performing exchange-traded products from this year. Please note this list excludes leveraged and inverse funds, and returns are as of 12/26/2014.
The Worst Performers
---
Content continues below advertisement
For a second year in a row, volatility as an asset class was by far the worst performer as bullish forces cleared away any uncertainties and propelled domestic equity indexes higher throughout the entire year. The rest of the worst performers list from the year is littered with energy-related names; whether it's country ETFs with meaningful exposure to Russia, or ETPs linked to oil & gas prices, it's undeniable that looming geopolitical tensions led to a massive sell-off for all energy-related assets around the globe.
Among the other factors contributing to weakness in energy prices was a rising U.S. dollar. The greenback took the lead on the currency front as the Fed inched closer to raising rates while other major central banks remained very much in "loose" policy mode; this in turn served as a headwind for commodity prices across the board, thereby putting additional downward pressure on already crumbling oil prices.
The table below lists each ETF from the above chart:
| ETF | YTD Return |
| --- | --- |
| C-Tracks ETN Citi Volatility Index Total Return (CVOL ) | -72.06% |
| Market Vectors Russia Small-Cap ETF (RSXJ ) | -50.68% |
| United States Brent Oil Fund (BNO ) | -47.75% |
| Market Vectors Russia ETF (RSX ) | -44.51% |
| S&P GSCI Crude Oil Tot Ret Idx ETN (OIL ) | -44.33% |
| DB Oil Fund (DBO ) | -42.02% |
| United States Gasoline Fund LP (UGA ) | -41.47% |
| ISE-Revere Natural Gas Index Fund (FCG ) | -41.21% |
| United States Oil Fund (USO ) | -41.17% |
| SPDR S&P Russia ETF (RBL ) | -41.07% |
For more ETF analysis, make sure to sign up for our free ETF newsletter.
Disclosure: No positions at time of writing.