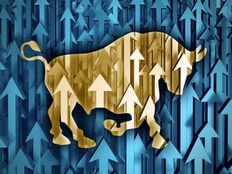 Bullish momentum continued to be a dominant force in 2014, bolstered by solid economic data and better-than-expected corporate results throughout the year. While the year saw several pullbacks, most have them were short-lived, allowing U.S. equities in particular to march higher [see also The Best and Worst Performing Bond ETFs of 2014].
Broad equity indexes managed to log in several record closes, while European stocks struggled to keep up with the U.S.'s pace. In general, riskier corners of the market benefited from this year's uptrend, which included several noteworthy performances from smaller, more volatile securities. Investors may be surprised, however, to learn how Treasury ETFs were some of the best performers of the year.
Below, we highlight 2014's best ETF performers. Please note that this list excludes inverse and leveraged ETFs (see All ETFs) and the year-to-date returns are as of December 23, 2014:
The Best Performers
---
Content continues below advertisement
This year, Global Carbon ETN (GRN) was the best performer, logging in a return of roughly 51%. Several India-focused funds also made the list, including two small-cap ETFs and one consumer-targeted ETF.
Biotechnology funds also performed well this year, as well as a handful of China A-Shares funds.
Outside of the equity space, two longer-dated Treasuries ETFs logged in impressive returns on the year: the 25+ Year Zero Coupon U.S. Treasury Index Fund (ZROZ) and the Extended Duration Treasury ETF (EDV).
Lastly, two commodity funds managed to make the best performer list, both of which track coffee futures (which were up largely due severe droughts in Brazil – the largest coffee producer).
The table below lists each ETF in the above chart:
[For more ETF analysis, make sure to sign up for our free ETF newsletter]
Disclosure: All data as of 12/23/2014. No positions at time of writing.