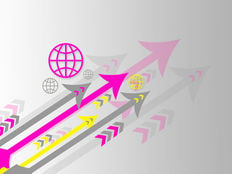 Bond investors are gearing up for what should be an interesting year for fixed income markets. In 2015 diverging monetary policies from around the globe will drive bond markets. In the U.S., however, the Fed's plan to adopt a tightening monetary policy will likely have a significant impact on both corporate and government domestic bonds. One corner of the market that investors should certainly keep a close eye on is municipal bonds, which have recently exhibited stellar performances.
In 2014, municipal bond ETFs were among the top performers (be sure to check out the full list of best performing bond ETFs of 2014). In particular, the SPDR Nuveen Barclays Capital Build America Bond ETF (BABS C+) logged in an over 16% return in 2014 – a significant turnaround from 2013's annual loss of 8.47%.
Muni Bonds Log in Impressive Returns
Other muni bond funds also managed to post impressive performances, especially in the trailing month. Below is a quick look at how the broader municipal bond market performed versus the S&P 500 and the top muni bond performer (data as of 12/29/2014).
---
Content continues below advertisement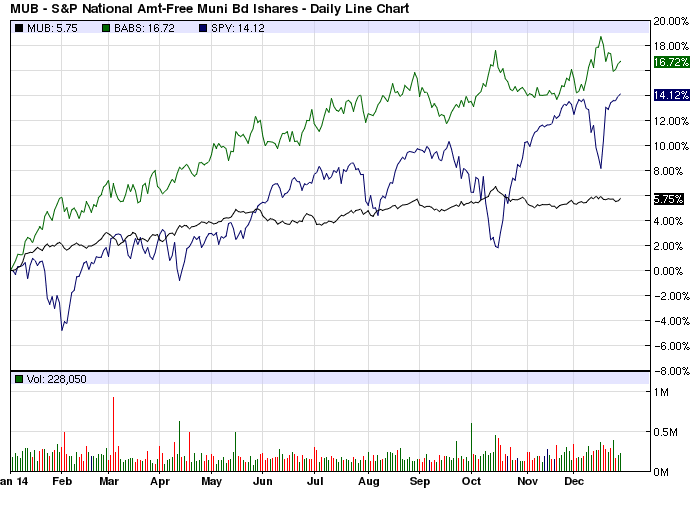 The Build America Bond ETF managed to outperform the S&P 500 (as represented by SPY), while the broad-based National AMT-Free Muni Bond ETF (MUB A) logged in a relatively impressive return of roughly 6%.
What is important to realize about these performances is that typically municpal bonds are coveted for their attractive yields and tax benefits – not for their potential for high capital appreciation. Since prices for these securities have gone up, yields have subsequently gone down. But considering the bond market's low-yield environment, the boost in capital appreciation has made munis an attractive buy for investors.
Muni Bond ETFs See Larger Inflows
Over the trailing six-month period, investors have slowly but steadily added municipal bond exposure to their portfolios via exchange traded funds. The chart below displays MUB's total assets under management over the last six months:
Year-to-date, MUB has seen net inflows of roughly $895 million. ETFs that target high yield muni bonds have also seen impressive inflows in 2014: the Market Vectors High Yield Municipal Index ETF (HYD A-) saw $570 million in net inflows.
The Bottom Line
Analysts believe this uptrend will likely continue in 2015, as solid U.S. economic data points to more stable and perhaps thriving local economies. Furthermore, the supply of municipal bonds has slowed in recent months and issuance is not expected to increase significantly anytime soon, meaning demand for these securities will continue to be elevated. Essentially, this translates to a higher probability for relatively high capital appreciation.
Last, but not least, even with the prospect of the Fed raising rates, yields on municipal bonds will still be attractive, especially considering the tax benefits offered by these securities.