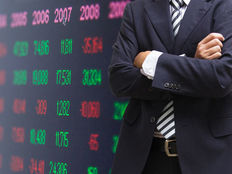 To help investors keep up with markets, we present our ETF Scorecard, which takes a step back and looks at how various asset classes across the globe are performing.
After kicking off the New Year on a sour note, major equity indexes appear to have found their footing as evidenced by the sharp rebound seen over the past two trading sessions. The key concerns on everyone's mind are uncertainty over upcoming elections in Greece, growing expectations over a potential stimulus announcement from the ECB, as well as fears over when the Fed will finally start to raise interest rates.
For more ETF news and analysis subscribe to our free newsletter.
Risk Appetite Review
The bulls came back at the start of 2015, but were in a defensive mood, as evidenced by Low Volatility stocks leading the way and High Beta ones lagging behind in red:
---
Content continues below advertisement
Major Index Review
Emerging markets and domestic small caps are the best performers from a longer-term perspective, while developed markets have been held back due to weakness across European stocks:
Domestic Sector Review
Energy stocks were the worst performers over the past week as crude oil prices continued to slip lower while Health Care equities turned in the best performance:
Foreign Equity Review
Russian equities managed to rebound over the past week while Germany and the U.K. turned in negative performances:
Commodities Review
Energy commodities remain the worst performers in this group while precious metals managed to post a positive return over the past week:
Currency Review
The U.S. dollar is the best performer over the past week as well as the trailing one month period:
Please note that trailing weekly returns are as of January 2nd, 2015 and all other data is updated as of market close January 8th.
Follow me on Twitter @Sbojinov
[For more ETF analysis, make sure to sign up for our free ETF newsletter]
Disclosure: No positions at time of writing.