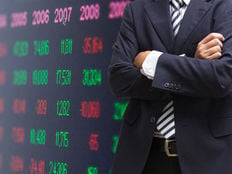 To help investors keep up with markets, we present our ETF Scorecard, which takes a step back and looks at how various asset classes across the globe are performing.
With earnings season well underway, volatility hasn't had a chance to evaporate just yet, although this week it favored the bulls more so than the bears. On the data release front, better-than-expected housing starts helped bring light back to the home-builders, with the home prices index coming in higher as well. Overseas, the European Central Bank finally delivered on its long overdue promises for more stimulus measures when it announced it would embark on repurchasing government as well as private second bonds.
For more ETF news and analysis subscribe to our free newsletter.
Risk Appetite Review
The bulls returned to Wall Street amid a string of encouraging earnings releases and hopes for ECB stimulus; not surprisingly, High Beta stocks took the lead in this group:
---
Content continues below advertisement
Major Index Review
All major indexes were in green for the week, although trailing monthly returns are still in negative territory for every one of them besides Emerging Markets:
Domestic Sector Review
The Energy sector recovered a lot of lost ground during the past week and the Financials sector is now the worst performing corner of the market from a monthly perspective:
Foreign Equity Review
Russian equities took the lead this past week although India is by far the best performing country from a monthly perspective:
Commodities Review
Precious metals took the lead for the week and this group remains the strongest performer from a monthly perspective as well:
Currency Review
The U.S. dollar posted the best returns for the week while the euro sank to fresh 1-year lows after the ECB rolled out an extensive stimulus package:
Please note that data is updated as of market close January 22nd.
Follow me on Twitter @Sbojinov
[For more ETF analysis, make sure to sign up for our free ETF newsletter]
Disclosure: No positions at time of writing.