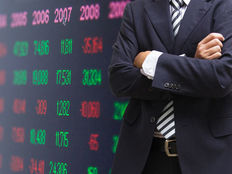 To help investors keep up with markets, we present our ETF Scorecard, which takes a step back and looks at how various asset classes across the globe are performing.
In case you missed our Live coverage of Inside ETFs earlier this week, be sure to read our five biggest takeaways from the conference as well as the most talked about investment trends for 2015. On the home front, back-and-forth trading persisted as investors digested mixed earnings and economic reports all throughout the week, including: worse-than-expected durable goods orders, surging new home sales, soothing words from the Fed, stellar earnings from Apple, and shaky results from Microsoft.
For more ETF news and analysis subscribe to our free newsletter.
Risk Appetite Review
Profit-taking pressures prevailed amid a period of mixed economic and earning reports as evidenced by negative returns across the board:
---
Content continues below advertisement
Major Index Review
All major indexes turned in a sour performance over the past week with the exception of U.S. small caps and Developed Markets:
Domestic Sector Review
Utilities rose to the top over the past week while Staples and Energy came in at the bottom of the barrel:
Foreign Equity Review
Russia was the biggest loser on the week while Germany posted the best returns:
Commodities Review
Commodity returns were red across the board over the past week and trailing month, with the exception of Precious Metals still hanging onto gains from a longer-term perspective:
Currency Review
Volatility in the currency market was fairly muted over the past week with the exception of the Aussie dollar which posted the biggest decline by far:
Please note that data is updated as of market close January 29th.
Follow me on Twitter @Sbojinov
[For more ETF analysis, make sure to sign up for our free ETF newsletter]
Disclosure: No positions at time of writing.