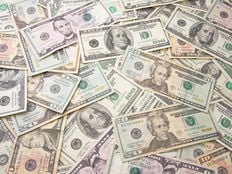 In the hunt for yield, many investors have turned to dividend-focused exchange-traded funds. But while high yields and juicy payouts are compelling, another important aspect of this type of strategy is dividend consistency. In this piece, we highlight an ETF that offers targeted exposure to the most reliable dividend paying companies – the S&P 500 Aristocrats ETF (NOBL A-).
Inside NOBL's Strategy
ProShares' S&P 500 Aristocrats ETF (NOBL) aims to target stocks with the longest records of dividend growth on U.S. exchanges. The theory behind this strategy is quite simple: a history of dividend growth is a good indicator of a company's long term return potential. Below is a chart from ProShares that depicts the performance differences between dividend growers, dividend payers, non-dividend payers, and dividend cutters:
---
Content continues below advertisement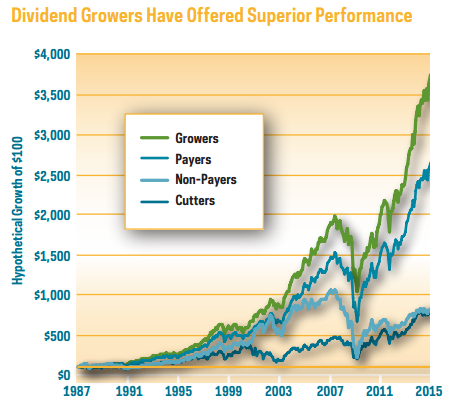 To accomplish this dividend growth strategy, NOBL's underlying index sets strict criteria for its stock selection methodology. To be included in the S&P 500 Dividend Aristocrats Index, companies must meet the following two criteria:
Must be members of the S&P 500
Have increased dividend every year for at least 25 years
The index itself contains at least 40 individual securities, which are equally weighted. To further eliminate any biases, no sector is allocated more than 30% of the index weight. The index is rebalanced every quarter in January, April, July and October.
NOBL's Portfolio
NOBL's resulting portfolio consists of roughly 54 individual securities, with no one stock accounting for more than 2.3% of the fund's total assets. In terms of sector allocation, roughly one-quarter of the fund consists of consumer staples equities. Consumer discretionary, health care, materials, financials, and industrials are also given meaningful allocations. NOBL's portfolio typically includes large and giant capitalization companies: the average market capitalization is roughly $64 billion.
Be sure to also check out Dividend ETF Investing: Four Critical Factors To Consider.
Considerations on NOBL's Performance
The S&P 500 Divided Aristocrats ETF (NOBL) is likely to produce returns that are very similar to the broader market, such as the S&P 500. The tilt towards larger capitalization firms makes it relatively less risky and less volatile than funds that focus on mid and smaller cap stocks.
Investors should be aware of NOBL's tilt towards consumer staples, which are typically some of the least volatile stocks on the market. The bias, however, means that NOBL's performance will rely significantly on the performance of this sector.
How to Use NOBL in a Portfolio
NOBL can certainly be used as a core holding for a traditional buy-and-hold portfolio, as it tracks some of the largest and most reliable stocks in the U.S. market. In addition, NOBL can serve as a boost to current income since the fund pays quarterly dividends: you can also expect these distributions to increase overtime as the underlying holdings are also increasing dividends every year.
The fund charges an expense ratio of 0.35%, which is roughly the average expense charged by ETFs in our Large Cap Value Equities category. NOBL can also be traded commission free on the Charles Schwab trading platform.
The Bottom Line
For those looking to tap into a compelling, long-term strategy, the S&P 500 Aristocrats ETF (NOBL A-) is certainly worth considering. Its focus on dividend growth and reliability allows investors to boost their portfolio's income stream, while at the same time maintaining a relatively low risk profile.
Follow me on Twitter @DPylypczak.
Disclosure: No positions at time of writing.