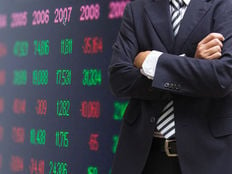 To help investors keep up with markets, we present our ETF Scorecard, which takes a step back and looks at how various asset classes across the globe are performing.
Major equity indexes quietly advanced higher over the past week as investors digested upbeat earnings and better-than-expected retail sales data on the home front. Overseas, looming uncertainty stemming from Greece has yet to be resolved, although investors' focus clearly has turned away from the eurozone drama for the time being.
For more ETF news and analysis subscribe to our free newsletter.
Risk Appetite Review
High Beta stocks were the strongest performing group for a second week in a row while Low Volatility was the only group to post a negative weekly return:
---
Content continues below advertisement
Major Index Review
The Nasdaq posted the best returns on the week amid broad-based bullish pressures and is also the strongest performer from a monthly perspective:
Domestic Sector Review
Technology stocks posted the best returns for the week while the Energy sector boasts the best returns over the trailing month:
Foreign Equity Review
Russia took a commanding lead over the past week and is now the best performer from a monthly perspective:
Commodities Review
Natural gas prices posted the best returns over the past week while precious metals led the way lower during this same period:
Currency Review
The U.S. dollar led the way higher while the Japanese yen lead the way lower over the past week:
Please note that data is updated as of market close February 12th.
Follow me on Twitter @Sbojinov
[For more ETF analysis, make sure to sign up for our free ETF newsletter]
Disclosure: No positions at time of writing.