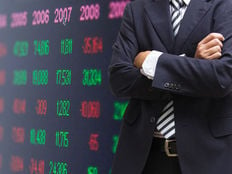 To help investors keep up with markets, we present our ETF Scorecard, which takes a step back and looks at how various asset classes across the globe are performing.
Major equity indexes have been grinding sideways with an upward bias after investors came back to Wall Street from the long Presidents' Day weekend. Overseas, debt negotiations between Germany and Greece remain in the spotlight with no clear resolution in sight just yet.
For more ETF news and analysis subscribe to our free newsletter.
Risk Appetite Review
Investors came back in a buying mood following the President's Day holiday as evidenced by High Beta stocks continuing to lead higher; this marks the third week in a row that investors have favored High Beta stocks over their Low Volatility counterparts.
---
Content continues below advertisement

Domestic Sector Review
From a weekly perspective, Health Care and Materials led the way higher, although their gains were quite paltry; on the other hand, Financials and Staples were the biggest losers from the trailing five day period.
From a monthly perspective, Basic Materials and Consumer Discretionary are the strongest performers with Energy trailing closely behind; on the other hand, the Utilities sector is by far the worst performer, perhaps in light of rate hike fears taking their toll on this otherwise defensive corner of the market.

Please note that data is updated as of market close February 19th.
Follow me on Twitter @Sbojinov
[For more ETF analysis, make sure to sign up for our free ETF newsletter]
Disclosure: No positions at time of writing.