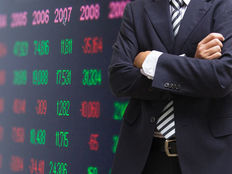 To help investors keep up with markets, we present our ETF Scorecard, which takes a step back and looks at how various asset classes across the globe are performing.
Major equity indexes continued their ascent as the Fed emphasized its commitment to maintaining an accommodative monetary policy for the foreseeable future; furthermore, policymakers continued to express the notion that even when rates do finally rise, the hikes will be very gradual in nature, which was welcomed by investors on Wall Street. On the data release front, existing and new home sales both fell short of expectations while CPI dipped further into negative territory. Overseas, investors breathed a sigh of relief after eurozone ministers approved a four-month extension to Greece's bailout.
For more ETF news and analysis subscribe to our free newsletter.
Risk Appetite Review
Buyers remained in control as evidenced by the largely positive returns seen in this group, with the exception of Low-Volatility stocks:
---
Content continues below advertisement
Major Index Review
The Nasdaq is the clear winner over the past month with Emerging Markets come in at last place by a fairly wide margin:
Domestic Sector Review
Health Care and Discretionary stocks took the lead this past week while Energy and Utilities posted the worst returns during the same time frame:
Foreign Equity Review
After being a serial underperformer in the last quarter of 2014, Russia is now by far the biggest winner from a monthly perspective even after posting a decline over the past week:
Commodities Review
Copper prices posted the biggest gains for the week and the industrial metal is now the biggest winner from a monthly perspective with crude oil trailing closely behind:
Currency Review
The euro posted the biggest losses for the week and remains the biggest loser from a monthly perspective as well:
Please note that data is updated as of market close February 26th.
Follow me on Twitter @Sbojinov
[For more ETF analysis, make sure to sign up for our free ETF newsletter]
Disclosure: No positions at time of writing.