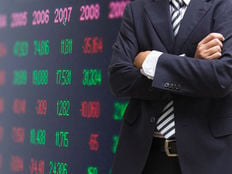 To help investors keep up with markets, we present our ETF Scorecard, which takes a step back and looks at how various asset classes across the globe are performing.
Major equity indexes continued to trend lower this week following the upbeat February employment report from the prior week in light of heightened rate hike fears. On the data release front, investors digested a slightly better-than-expected small business index reading along with negative retail sales that barely beat expectations. Overseas, European equities kicked off the week on shaky footing but have since regained their balance in light of the ECB's stimulus program which began on Monday.
For more ETF news and analysis subscribe to our free newsletter.
Risk Appetite Review
Profit taking pressures have dominated Wall Street over the past week as evidenced by negative returns across the board, with High Beta securities getting hit the hardest from this group:
---
Content continues below advertisement
Major Index Review
Major equity indexes around the globe are now all negative, or close to it, from a monthly returns perspective with the exception of U.S. small caps, which are leading the way higher by a wide margin:
Domestic Sector Review
The Energy sector is back to being the worst performer across all time frames, while the Discretionary and Health Care sectors have proven to be the most resilient from a monthly perspective:
Foreign Equity Review
Brazil and Russia are the worst performers across all time frames while Japanese equities have proven to be the most resilient ones from this group:
Commodities Review
As a whole, commodities have been very poor performers over the past month with copper prices turning in the biggest gains:
Currency Review
The U.S. dollar posted the best returns for a second week in a row and it also remains the biggest winner by far from a monthly perspective:
Please note that data is updated as of market close March 12th.
Follow me on Twitter @Sbojinov
[For more ETF analysis, make sure to sign up for our free ETF newsletter]
Disclosure: No positions at time of writing.