Industry newcomer Lattice Strategies expanded its product suite this week with the launch of the Global Small Cap Strategy ETF (ROGS).
Lattice Strategies joined the industry as an issuer in 2015 when it rolled out three innovative products aimed at bridging the gap between active and passive management. The issuer rounded out its existing suite of funds earlier this week when it launched the Global Small Cap ETF, trading under the ticker ROGS, on March 24th, 2015.
Under the Hood of Lattice's ROGS
ROGS is linked to the Lattice Risk-Optimized Global Small Cap Strategy Index, which seeks to differentiate itself from competing equity indexes by focusing on small cap securities from all over the globe with a twist. The underlying benchmark is designed to select stocks that exhibit a favorable combination of several different investment factors, including: valuation, momentum,and quality.
The newly launched Global Small Cap Strategy ETF is positioned as a "core product" aimed at helping investors round out their equity exposure to small cap firms from around the world. According to the issuer, more than two-thirds of small cap companies are domiciled outside of the U.S., which likely leave many investors under-diversified from a geographic perspective. This ETF aims to reduce risk and enhance return potential by focusing strictly on those securities that exhibit the most favorable combination of the investment factors mentioned above; furthermore, this ETF will strive to reduce overall volatility and drawdown risk by taking advantage of lower-correlation opportunities across the global small cap equity universe.
ROGS Portfolio Composition
---
Content continues below advertisement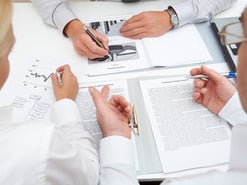 From a portfolio composition perspective, ROGS does a decent job of spreading out exposure across domestic and foreign small caps, including ones from developed as well as emerging market nations. More specifically, you can see the fund's top country allocations below (as of 3/25/2015):
United States – 42%
Japan – 12%
South Korea – 6%
China – 6%
Taiwan – 5%
From a sector breakdown perspective, the highest allocations are awarded to financial services (25%), consumer discretionary (18%), and industrials (18%). The ETF holds approximately 450 securities in total and charges 0.60% in annual expense fees.
The Bottom Line
The recently launched Global Small Cap Strategy ETF (ROGS) warrants a closer look under the hood from anyone looking to geographically diversify their portfolio's equity component all the while steering clear of "plain vanilla", broad-based index funds.
Follow me on Twitter @SBojinov.
For more ETF analysis, make sure to sign up for our free ETF newsletter.
Disclosure: No positions at time of writing.