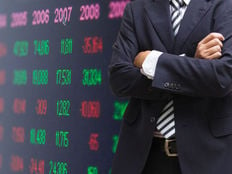 To help investors keep up with markets, we present our ETF Scorecard, which takes a step back and looks at how various asset classes across the globe are performing.
The past week was yet another choppy affair for markets, as a definitive direction for 2015 has yet to present itself. The first quarter drew to an end on Tuesday, with (SPY A) and (DIA B+) logging gains of just 0.88% and 0.36% for the year. With stocks still glued to the Fed and when it will raise rates, it seems that markets will continue the up and down movements in the short term. Despite markets being closed for trading today, non-farm unemployment numbers will still be released and are sure to be a big mover when the market re-opens on Monday.
For more ETF news and analysis subscribe to our free newsletter.
Risk Appetite Review
Overall, risk appetite seemed to decrease this week, as the low volatility ETF outperformed the high beta fund.
---
Content continues below advertisement
Major Index Review
Emerging markets are back in favor as they have been the best performer not only over the past week but the past month as well.
Domestic Sector Review
Utilities and discretionary had the best turnouts this past week, but only utilities have been positive over the trailing month.
Foreign Equity Review
China and Russia both logged massive gains, as the key members of the BRIC nation are rapidly gaining ground with investors.
Commodities Review
Ags and natural gas were the only two able to muster a positive performance this past week, but silver and copper still remain dominant over the last month.
Currency Review
The greenback and emerging market currencies were able to eke out gains this week, while the aussie suffered significant losses.