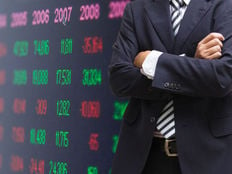 To help investors keep up with markets, we present our ETF Scorecard, which takes a step back and looks at how various asset classes across the globe are performing.
Investors had their eyes keenly fixed on earnings this past week and are slated to do the same for the next. Apple's report on Monday will be one of the biggest market movers as it is not only the largest S&P 500 component, but it is also a new-addition to the Dow Jones Industrial Average. Though it has flown under the radar, crude oil prices have been recovering as of late, with this week seeing a few strong sessions from the fossil fuel.
For more ETF news and analysis subscribe to our free newsletter.
Risk Appetite Review
Risk was on this week, as the high beta fund was the best performing of this group while the low volatility option lagged behind.
---
Content continues below advertisement
Major Index Review
Emerging markets continue to dominate as far as performance is concerned, with China and Russia both having an excellent run in 2015.
Domestic Sector Review
Technology had the best week of this sector, but crude's recovery continues to buoy XLE over the trailing two weeks.
Foreign Equity Review
Brazil and Japan turned in the best performances this past week though China and Russia continue to dominate over the 10 day period.
Commodities Review
A dismal week for commodities as the best performance came from gold, which lost 0.32%.
Currency Review
The dollar showed signs of cooling off this week while the pound led the way.