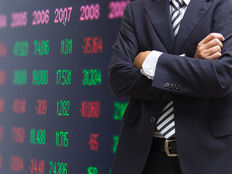 To help investors keep up with the markets, we present our ETF Scorecard. The Scorecard takes a step back and looks at how various asset classes across the globe are performing.
Selling pressures have permeated Wall Street, yet again, in light of cautious commentary by Fed Chair Janet Yellen regarding inflated valuations in the domestic equity market. On the data release front, investors have been patiently waiting for today's monthly jobs data following April's disappointing figures.
For more ETF news and analysis subscribe to our free newsletter.
Risk Appetite Review
Selling pressures are creeping in, as evidenced by investors dialing back their risk appetite in high-beta securities. At the same time, low-volatility securities are achieving the best returns:
---
Content continues below advertisement
Major Index Review
Following a stellar performance in April, emerging markets are back in red territory, although U.S. small caps have turned in by far the worst returns from this group:
Domestic Sector Review
The financials sector turned in the best returns over the trailing week while the energy sector turned in the worst returns by far over this time frame:
Foreign Equity Review
From a monthly perspective, Brazil is the top performer by a fairly wide margin, whereas India is by far the worst performer from this group:
Commodities Review
Crude oil prices dipped over the past week but remained in positive territory over the past month with copper and natural gas trailing right behind:
Currency Review
The U.S. dollar has been in a steep decline over the past month. This has served as a major tailwind for the euro, among other currencies from this group:
Follow me on Twitter @SBojinov
For more ETF analysis, make sure to sign up for our free ETF newsletter.
Disclosure: No positions at time of writing.