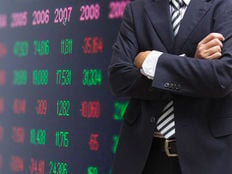 To help investors keep up with the markets, we present our ETF Scorecard. The Scorecard takes a step back and looks at how various asset classes across the globe are performing.
Major equity indexes remain in a choppy uptrend in light of mixed developments taking place at home and abroad. On the tailwind side, encouraging growth readings out of the eurozone promise better days ahead. On the headwind side, however, fears of rising rates in the U.S. have led to steep sell-offs in bonds all over the globe, translating into uncertainty for equity investors.
For more ETF news and analysis subscribe to our free newsletter.
Risk Appetite Review
Following last week's bout of volatile trading, the bulls are back in full force as evidenced by positive returns across the board from this group.
---
Content continues below advertisement
Major Index Review
Developed markets have taken the lead over the past week while U.S. small caps and emerging markets are the worst performers from a monthly perspective.
Domestic Sector Review
Over the past month, the energy sector has turned in the worst returns while the technology and materials sectors have demonstrated the most strength.
Foreign Equity Review
For the trailing week, every country posted a positive return with Australia and the U.K leading the way higher.
Commodities Review
Silver and natural gas prices saw the biggest jumps over the past week and are also the top performers from a monthly perspective.
Currency Review
The U.S. dollar declined over the past week, giving a boost to virtually every other currency. The British pound made the most headway.
Follow me on Twitter @SBojinov
For more ETF analysis, make sure to sign up for our free ETF newsletter.
Disclosure: No positions at time of writing.