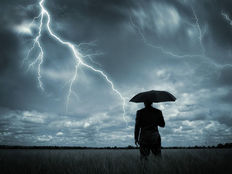 This week, Wall Street welcomed two ETF firsts from Connecticut-based issuer AccuShares.
A New Way to Play Volatility
On May 19th, AccuShares launched two new funds: the Spot CBOE VIX Up Class Shares (VXUP ) and the Spot CBOE VIX Down Class Shares (VXDN ). Both ETFs are the first to be directly linked to the CBOE Volatility Index (the "VIX").
Teaming up with the "Father of the VIX", Vanderbilt University Professor Robert Whaley, AccuShares' new funds allow investors to trade the VIX, long or short, without the costs of futures rolls, tracking error created by contango and backwardation, and fees and expenses associated with complex trading strategies. VXUP is designed for investors with a bullish outlook on the VIX, while VXDN offers a bearish (-1x) play. Each fund charges an expense ratio of 0.95%.
The funds have three patents behind them offering one-of-a-kind exposure to spot VIX prices. But rather than owning VIX futures contracts, VXUP and VXDN function by creating and redeeming shares in the opposing fund. More specifically, each fund will issue its shares in offsetting pairs, where one constituent of the pair is positively linked to the fund's underlying index ("Up Shares") and the other constituent is negatively linked to the fund's underlying index ("Down Shares"). Therefore, the fund will only issue, distribute, maintain and redeem equal quantities of Up and Down shares at all times. The strategy is meant to create a "level laying field for all market participants" by eliminating unnecessary constituents from the ETF value chain.
---
Content continues below advertisement
An ETF That "Does What it Says it Does"
Commenting on the launch, AccuShares CEO Jack Fonss stated, "We are excited to launch our first fund and are now focused on bringing a new level of innovation to the ETP marketplace. AccuShares set out to challenge conventional wisdom about how investors can seek to gain exposure to volatility and other hard-to-access asset classes. We spent two years researching and developing an ETF structure that we believe levels the investing playing field and brings complete transparency to the ETF transaction."
Professor Robert Whaley also noted, "We think an ETF should do what it says it does, and with AccuShares, investors, for the first time, can get accurate 'spot' exposure to the CBOE Volatility Index. AccuShares provides all investors with ETFs that are based on an objective underlying index – not a manager's ability to replicate it."
Follow me on Twitter @DPylypczak.
Disclosure: No positions at time of writing.