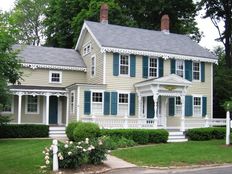 The U.S. housing market was one of the biggest catalysts behind the Great Recession in 2008, as its bubble and eventual collapse reverberated throughout global markets. As such, it has been particularly under the microscope since the recession, as investors want to keep an eye on a sector that had such a major impact just a few years ago.
One of the most popular funds in the housing space is the SPDR Homebuilders ETF (XHB A+), which has been performing very well over the last few years and has made a nice jump thus far in 2015.
XHB on the Rise
As the housing market has clawed its way back from its 2008 depths, so too has this popular ETF, which now has more than $1.6 billion in assets and trades hands more than 870,000 times each day. Over the last five years, the fund has gained more than 100%, and is up nearly 30% since making a low in October of last year. The following chart shows XHB and SPY over the trailing five year period:
---
Content continues below advertisement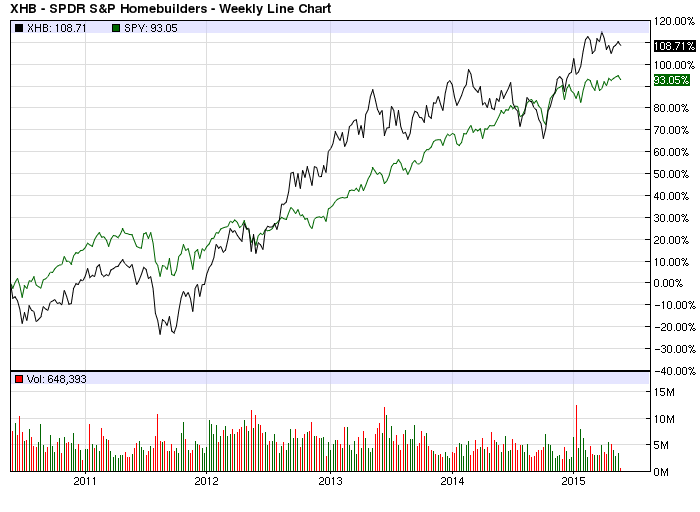 Though its ride has been a bit rockier, XHB has managed to outperform the broad market in the past half-decade. The housing market's recovery has taken longer than many had initially expected, but 2015 has shown a few signs that it may be gaining traction.
U.S. Housing Heats Up
New home sales have picked up in the last few months, with a report just this morning showing another positive movement in April. Also, the S&P Case-Shiller Home Price Index has been off to a strong start this year and has performed even better over the trailing 12 months.
Housing starts and existing home sales have been relatively mixed, with a few weak and strong periods scattered over the last few months. For now, investors and the overall market seem more intrigued with the aforementioned two statistics rather than the starts and existing sales.
Obviously, the move in XHB is partly attributed to a six-year plus bull run on Wall Street that has injected confidence back into the economy, allowing housing markets to make such a move. For as long as the bull run continues, the housing market is poised to do the same.
The Bottom Line
XHB and the housing market will be particularly under the gun later this year, as the Fed has hinted that its first rate raise in quite some time will come before the start of 2016. Markets are expected to react poorly to a rate raise, but mostly on the psychological end of things. Investors will certainly want to keep an eye on the trading activity in funds like XHB when that time comes, as it could prove to be something of an emotion-based sell-off.
Follow me on Twitter @JaredCummans.
[For more ETF analysis, make sure to sign up for our free ETF newsletter]
Disclosure: No positions at time of writing.