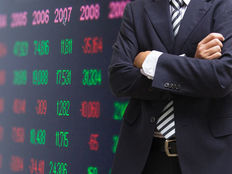 To help investors keep up with the markets, we present our ETF Scorecard. The Scorecard takes a step back and looks at how various asset classes across the globe are performing.
Major equity indexes managed to reach new heights this week but their ascent has been a very choppy one. The shortened trading week made way for profit taking pressures following rate-hike commentary from Janet Yellen at the end of last week. On the data release front, investors have digested worse-than-expected durable goods orders, upbeat new home sales, although the key release on everyone's mind will be today's GDP revision.
For more ETF news and analysis subscribe to our free newsletter.
Risk Appetite Review
Selling pressure have returned amid the S&P 500's struggle to reach fresh highs, as evidenced by High-Beta stocks being the biggest loser from this group and Low-Volatility ones turning in the best returns:
---
Content continues below advertisement
Major Index Review
Emerging markets have gone from the best performer to the worst performer in a matter of weeks since peaking in late April, which showcases their inherent volatility:
Domestic Sector Review
Amid the back-and-forth trading on Wall Street over the past month, the Energy sector has yet again fallen to the bottom of the barrel in terms of performance whereas the Health Care sector has risen to the top:
Foreign Equity Review
The recent pullback in crude oil prices has dragged down Brazil and Russia, whereas China has managed to hold its ground the best over the last week:
Commodities Review
A rebound in the U.S. dollar over the past week put downward pressures on commodities prices across the board, with natural gas and crude oil turning in the worst returns from this group:
Currency Review
The U.S. dollar rallied higher over the past week, which effectively put every other currency from this group in red territory:
Follow me on Twitter @SBojinov
For more ETF analysis, make sure to sign up for our free ETF newsletter.
Disclosure: No positions at time of writing.