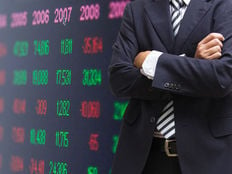 To help investors keep up with the markets, we present our ETF Scorecard. The Scorecard takes a step back and looks at how various asset classes across the globe are performing.
Major equity indexes have drifted sideways with a downward bias over the past week as lackluster data, and Friday's monthly jobs report, paved the way for profit-taking pressures. On the home front, investors digested improving manufacturing and construction spending data, though it was far from stellar, whereas factory orders turned negative month-over-month.
For more ETF news and analysis subscribe to our free newsletter.
Risk Appetite Review
Selling pressures have been plaguing Wall Street over the past week as evidenced by negative returns across the board:
---
Content continues below advertisement
Major Index Review
Emerging markets remain at the bottom of the barrel from both a short- and longer-term horizon:
Domestic Sector Review
Sector returns were negative across the trailing week period and those still in positive territory over the past month are Discretionary, Financials, Technology, and Health Care:
Foreign Equity Review
Russia and Brazil remain at the bottom of the barrel in terms of monthly returns given the recent slowdown in crude oil's rebound:
Commodities Review
Copper and natural gas prices were the biggest losers of the week, while agricultural goods saw the biggest gains:
Currency Review
The U.S. dollar took a dive lower for the week, which served as a tailwind for the euro more so than any other currency from this group:
Follow me on Twitter @SBojinov
For more ETF analysis, make sure to sign up for our free ETF newsletter.
Disclosure: No positions at time of writing.