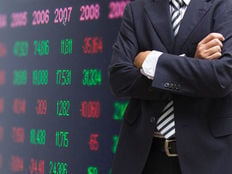 To help investors keep up with the markets, we present our ETF Scorecard. The Scorecard takes a step back and looks at how various asset classes across the globe are performing.
Major equity indexes managed to rebound during the second half of this week following a worrisome start. This was due to the bearish reaction seen last week after the release of the latest monthly employment data. On the home front, investors digested a better-than-expected NFIB Small Business Index reading along with improving retail sales month-over-month.
For more ETF news and analysis subscribe to our free newsletter.
Risk Appetite Review
Profit-taking pressures took center stage over the past week as evidenced by lackluster returns across the board:
---
Content continues below advertisement
Major Index Review
Over the trailing month, emerging markets are still the best performer while the Russell 2000 is the biggest winner by far:
Foreign Equity Review
Profit-taking pressures have permeated virtually all corners of the globe as evidenced by the lackluster, and mostly negative, returns from this group:
Commodities Review
Natural gas prices posted the biggest gains for the week whereas silver prices saw the biggest decline from this group:
Currency Review
The U.S. dollar saw its bullish momentum wane over the past week which helped lift the Japanese yen and British pound higher:
Follow me on Twitter @SBojinov
For more ETF analysis, make sure to sign up for our free ETF newsletter.
Disclosure: No positions at time of writing.