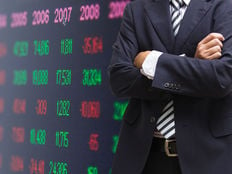 To help investors keep up with the markets, we present our ETF Scorecard. The Scorecard takes a step back and looks at how various asset classes across the globe are performing.
This week, U.S. equities rebounded to end the week in positive territory. Meanwhile, as perceived economic conditions continue to improve, analysts prepare for a possible rate hike from the Fed as early as September. Some increased volatility in the markets can be expected as speculation intensifies over when rates will be raised.
For more ETF news and analysis subscribe to our free newsletter.
Risk Appetite Review
U.S. equity markets performed well this week as investors digested the latest round of earnings. The S&P Low Volatility Fund was the best performer this week, with a 1.76% return.
---
Content continues below advertisement
Major Index Review
All major U.S. indexes logged in positive five-day returns, with the S&P 500 leading the way posting a 1.36% return. The Emerging Market ETF struggled this week, shedding 0.92% on the week and 7.25% on the month.
Foreign Equity Review
Both Brazil and Russia broke their losing streaks by recording modest gains. However, both remain negative for the month along with recent loss-leader, China. The U.K. posted a positive return for the trailing one-month period, gaining 1.09%.
Commodities Review
Commodities continued to struggle this week, with only silver and oil posting modest returns while the rest continued to sink deeper into the red. Gold performed the worst with a -1.03% loss for the week. Meanwhile, oil is down -15.71% over the the trailing one-month period.
Currency Review
The British pound was the best performer this week, posting a 0.61% gain. The U.S. dollar remains the leading currency over the trailing one-month period, with a 1.11% return.
For more ETF analysis, make sure to sign up for our free ETF newsletter.
Disclosure: No positions at time of writing.