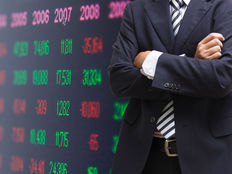 To help investors keep up with the markets, we present our ETF Scorecard. The Scorecard takes a step back and looks at how various asset classes across the globe are performing.
A series of poor earnings reports from media giants, namely Disney and Viacom, dragged down major U.S. indices this week. Meanwhile, several key economic indicators including initial jobless claims and personal income reports managed to come in above analyst expectations.
For more ETF news and analysis subscribe to our free newsletter.
Risk Appetite Review
Equity markets saw modest losses this week with less than stellar earnings reports from many heavyweights. The S&P Low Volatility Fund was the only one in the positive this week, with a 0.08% return.
---
Content continues below advertisement
Major Index Review
No major index recorded a positive return this week, with the Emerging Markets fund coming in at the bottom of the barrel with a -2.16% loss. The NASDAQ 100 still managed to log in a 2.60% monthly return despite posting a -1.43% loss on the week.
Foreign Equity Review
Brazil and Russia continue to be loss-leaders in foreign equity markets, dropping 5.16% and 2.95% respectively. Meanwhile, Germany fared well, posting a 1.84% gain this week.
Commodities Review
Oil continued on its downward trajectory as it slid a further -4.62% in the red this week. Natural gas continues to perform well, gaining 3.22% this week, and is the only fund showing positive returns for the trailing month. The rest of the commodities posted small losses.
Currency Review
The U.S. Dollar performed well this week gaining 0.51% bringing its return for the month to 1.83%. The Euro slipped -1.97% this week while Emerging Markets suffered the most over the trailing month, losing -4.02%.
For more ETF analysis, make sure to sign up for our free ETF newsletter.
Disclosure: No positions at time of writing.