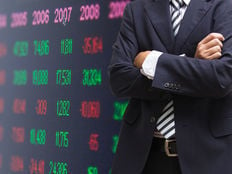 To help investors keep up with the markets, we present our ETF Scorecard. The Scorecard takes a step back and looks at how various asset classes across the globe are performing.
All eyes were on China once again this week, after the struggling country made a surprise policy move: a historic devaluation of the nation's currency, the yuan. Subsequently, the move sent volatility across global financial markets, spurring a harsh round of panic selling. Towards the end of the week, however, equities managed to rebound slightly.
For more ETF news and analysis subscribe to our free newsletter.
Risk Appetite Review
Equity markets saw modest gains this week despite enduring a steep sell-off following China's devaluation. The S&P High Beta Fund was the only one in the red this week, shedding 0.06%.
---
Content continues below advertisement
Major Index Review
Only the Dow and S&P 500 managed to eke out small gains on the week. Emerging markets came in once again at the bottom of the barrel with a 2.20% loss. On the month, EEM and IWM continue to be the worst performers.
Foreign Equity Review
Somewhat surprisingly, only China and Japan managed to log in a positive return on the week, albeit small ones. The India ETF was the worst performer on the week, while the Brazil ETF shed 19.75% on the month.
Commodities Review
Metals were the top winners this week, with silver leading the pack, gaining 5.15%. Oil was the worst performer on the week, after WTI traded to its six-and-a-half-year low. On the month, oil continues to be the worst performer.
Currency Review
The U.S. dollar lost steam this week, shedding 1.53%. The euro was this week's top performer, gaining 2.04%. Over the trailing one-month period, emerging-market currencies continue to decline.
For more ETF analysis, make sure to sign up for our free ETF newsletter.
Disclosure: No positions at time of writing.