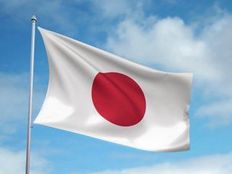 While the Fed deals with its own policy tightening dilemma at home, Japanese policymakers are casting hints of more easing to come.
The Bank of Japan managed to hold off on announcing further stimulus measures at this week's meeting, despite anemic economic growth; this in turn has set the stage for a growing consensus that the BoJ will announce more stimulus at the next meeting, especially if economic data remains discouraging.
Surprisingly Resilient
Amid the August rout on Wall Street, few probably paid attention to Japanese equity ETFs as "Stocks Plummeting!"" and "China Crashing!" stole the headlines. Let's establish a simple reference point to put Japan's surprising resilience into perspective:
---
Content continues below advertisement
YTD the broad U.S. equity market (SPY A) is off by about 3%, with China (FXI A) leading to the downside (-12%), whereas Japan (EWJ A) stands on firm green ground up almost 5%. What's even more impressive are some of the sector-specific returns overseas. For example (returns as of 9/14/2015):
Japan Hedged Financials Fund (

DXJF

) is up over 26%.
Japan Hedged Health Care Fund (

DXJH

) is up over 25%.
In fact, the worst performing Japanese equity ETF YTD is the Japan Hedged Real Estate Fund (DXJR B-) and even that's up nearly 7%.
Granted we're looking at one time frame, but Japan's outperformance over the U.S. YTD is impressive nonetheless for two reasons:
1. Japan is much more economically tied to China than the U.S. is when you consider each country's top importing and exporting partners.
2. Japan has logged lackluster economic growth compared to the U.S. since the depths of the recent financial crisis.
Follow the Stimulus
Since 2013, the Bank of Japan has pursued a massive stimulus and monetary easing policy in an effort to spur growth (inflation helps too). Fast forward to today, the assertion made above that the U.S. economy is more resilient than Japan's is further highlighted by the fact that the Fed is moving closer towards policy tightening whereas the BoJ is very much entrenched in easing mode.
Whether its "right" or "wrong", equity markets love it when policymakers lend a hand; whether it's through adding stimulus, cutting rates, slashing reserve requirements, buying back securities, or merely hinting of better days ahead, there's no argument that central bank policy drives the market.
The Bottom Line
Whatever the reason(s) behind it may be, the surprising resilience of Japanese equity ETFs warrants a closer look from anyone looking to deploy capital in beaten down corners of the global market following the August 2015 plunge. The upcoming BoJ meeting on October 7 could provide the necessary catalyst to re-ignite the momentum behind Japan's equity market.
Follow me @SBojinov