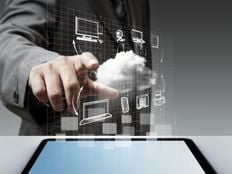 Dell Inc. agreed to buy EMC Corp. (EMC) in October for $67 billion in the largest technology acquisition in history. While some analysts attributed the deal to tech market froth, the acquisition also signifies the growing importance of cloud computing. The move is also just the latest in a trend of such acquisitions, including International Business Machine's (IBM) acquisition of SoftLayer in 2013 for $2 billion after selling off its PC business.
Investors looking to capitalize on these trends may want to take a look at the ISE Cloud Computing Index Fund (SKYY B), which is a $500 million exchange-traded fund (ETF) that provides them with exposure to cloud computing technology.
Massive Shift Spurs M&A
According to Cisco Systems Inc.'s (CSCO) Global Cloud Index white paper, more than three-quarters (78%) of workloads will be processed by cloud data centers by 2018 compared to just 22% processed by traditional data centers. The growth will be largely driven by software-as-a-service's 33% CAGR, although infrastructure-as-a-service and platform-as-a-service technologies are also expected to realize double-digit annual growth rates.
---
Content continues below advertisement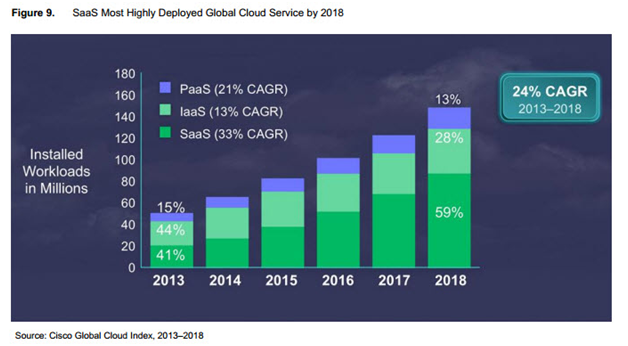 It should come as no surprise that traditional PC companies are making big investments in cloud computing, given the secular shift from traditional data centers to cloud data centers. As hardware sales become increasingly consolidated among cloud computing data centers rather than individual customers, many traditional hardware manufacturers may find it increasingly difficult to compete, making acquisitions a natural next step.
Rising Equity Valuations
Since the beginning of the year, SKYY has risen 4.53% compared to a 1.47% drop in the S&P 500 SPDR ETF (SPY A), driven by the industry's strong growth and robust valuations in the technology sector. The S&P 500's P/E ratio stands at 21.32x, according to Multpl.com while the cloud computing ETF's components have an average P/E multiple of 23.94x, according to the ETF's prospectus.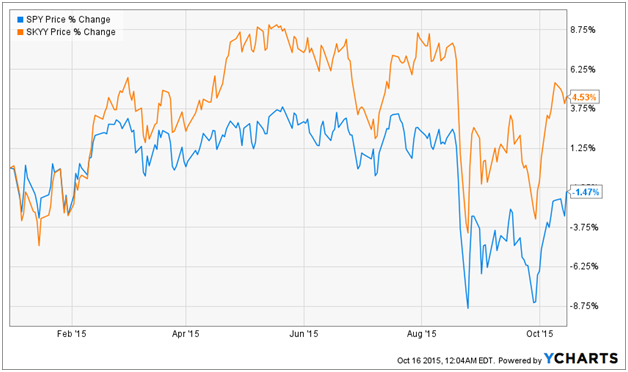 In many ways, the tech sector has been insulated from other areas of the economy given the ongoing interest in investment and robust revenue growth. Tech giants like Apple (AAPL) may have experienced a nasty fall in August and September, along with the rest of the market, but their recovery has been swift over the ensuing months.
Important Risk Factors
The ISE Cloud Computing Index Fund may be outperforming the S&P 500 and benefitting from strong industry tailwinds, but there are many risks that investors should consider.
The ETF has strong exposure to the software industry (35.85%), internet industry (19.04%) and communications equipment (14.43%), which means that it may be especially susceptible to a downturn in these areas. With the tech industry hitting new highs, investors should know that they would be buying near highs rather than securing bargains at low levels, which is an inherently riskier trade given the oversized relative valuations.
Some of the ETF's component equities have also been struggling to meet the market's expectations. For instance, Netflix Inc. (NFLX) announced that 880,000 subscribers were added during the third quarter, but the stock took a hit as the market was expecting 1.15 million additions. Amazon.com (AMZN), the largest holding for the ETF, also has a notoriously unprofitable cloud business as it reinvests in growth.
The Bottom Line
The cloud computing space is certainly a promising industry segment when it comes to organic growth and accelerating M&A. The big question for investors to answer is whether they're buying at the top of a cycle or at the beginning of a much bigger shift – and Dell's record acquisition of EMC seems to suggest the latter.
Image courtesy of nokhoog_buchachon at FreeDigitalPhotos.net