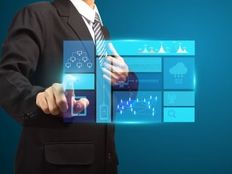 Earnings season has once again kicked off, and two of the major sectors in the stock market, technology and consumer discretionary, have a lot in store for investors over the next week. A number of large-cap companies, including Alphabet Inc. (GOOG), IBM (IBM), Microsoft (MSFT), Netflix (NFLX), and Chipotle (CMG) have either already reported or are set to report this week.
Here's what investors should know about earnings season and what to expect going forward.
Keep an Eye on the U.S. Dollar
Analysts do not have high expectations for U.S. corporate earnings this quarter due to a couple of major headwinds. One is the economic slowdown in the emerging markets which has caused growth to taper off. But even worse, the U.S. dollar is expected to have a major impact on corporate earnings. Multi-national corporations that have a global reach are seeing revenue and earnings decline significantly due to foreign exchange fluctuations.
Companies that conduct a significant portion of their revenue from outside North America, especially in the technology sector, are suffering steep declines from the rising U.S. dollar. This is making international revenue worth less when it is converted back into U.S. dollars. The exchange has impacted U.S. corporate earnings for most of the past year.
This is already having a significant effect on earnings. Companies that have already reported, such as IBM, are seeing major declines in revenue largely because of currency exchange. For example, IBM's diluted earnings from continued operations fell 13% last quarter, year-over-year. However, excluding the effects of currency fluctuations, IBM's revenue from continued operations was down just 1%.
---
Content continues below advertisement
Performance of Exchange-Traded Funds in 2015
Not surprisingly, the weakness in corporate earnings growth this year has caused stock prices to decline in the technology sector. Two exchange-traded funds (ETFs) that track these sectors have underperformed the markets this year. For example, the Technology Select Sector SPDR ETF (XLK A) is up 1.5% year-to-date while the Consumer Discretionary Select Sector SPDR ETF (XLY A) has outperformed, and has returned 8.8% year-to-date. The S&P 500 Index as a whole is up approximately 2% year-to-date.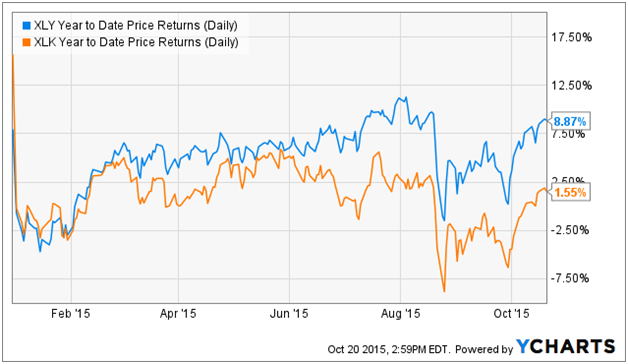 Several consumer discretionary stocks have performed extremely well, such as Netflix. Netflix reported a 29% increase in quarterly revenue when compared to last year's Q3 results. It seems that the huge drop in commodity prices over the past year has benefited the consumer discretionary sector greatly as consumers have more disposable income to spend on discretionary products and experiences. This is not occurring to the same extent in technology, though, which relies heavily on the emerging markets, where growth is slowing down.
Watch Earnings Reports This Week
During the week of October 19-23, there are many important earnings reports coming from companies including Alphabet, Microsoft, Chipotle, and more. These reports will likely have a major impact on the performance of the technology and consumer discretionary exchange-traded funds, XLK and XLY. These large-cap stocks are very important to the ETFs.
The Bottom Line
The consumer discretionary ETF has significantly outperformed the broader stock market this year, and confirmation of that trend could be achieved if revenue and earnings growth continues to exceed analyst forecasts.
Image courtesy of KROMKRATHOG at FreeDigitalPhotos.net