The year-end holiday shopping (frenzy) season is around the corner, and consumers and investors alike are looking ahead to this year's Black Friday.
For many, Black Friday marks the unofficial start to the "make-or-break" period, as lots of retailers rely on generating a significant portion of their annual revenues during the months of November and December alone. This year is no different.
Retailer Earnings Recap (WMT, M, TGT, AMZN)
Before we move onto discussing ways to play the retail industry today, let's recap how some of the industry bellwethers are doing:
---
Content continues below advertisement
All in all, the most recent corporate earnings showcased the ever-intensifying battle between traditional brick-and-mortar retailers and Amazon.
How to Play with ETFs: Watch Your AMZN Exposure
Investors would be wise to consider how much a particular ETF affords to Amazon.com (AMZN) stock – you can use the ETFdb stock exposure tool to check - before pulling the trigger on their retail play. Why? Consider the fact that the best performing Retail ETF is up 8% YTD, while the worst is down 7%. Now consider a head-to-head comparison between the top 10 holdings of these funds, Market Vectors Retail ETF (RTH A) and the SPDR S&P Retail ETF (XRT B+): .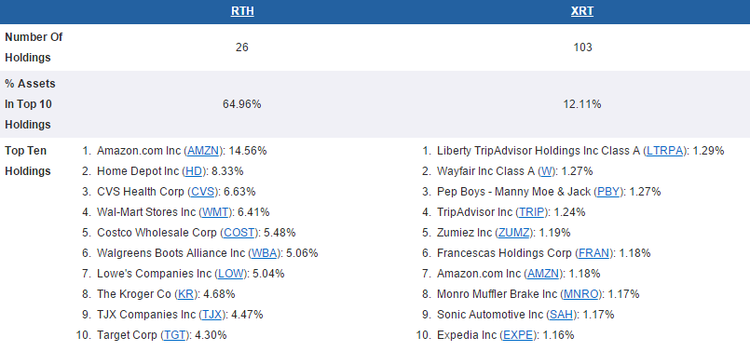 Notice the different weights afford to AMZN? The top holding in RTH, Amazon, is the key as to why this fund has grossly outperformed XRT, it's a much (much) bigger retail ETF counterpart in terms of AUM.
Because XRT is equally weighted, AMZN stock does not have as meaningful impact on the ETF's performance. Amazon is the second best performing stock this year (second to NFLX with an impressive 156% YTD gain) managing to rake in gains of 118% YTD.
The ultimate takeaway here is that the Amazon stock has been a big driver behind some ETFs, and not others, given the difference in product methodologies. Investors who have a strong opinion on this name, either bullish or bearish, may wish to opt for an ETF that reflects this — that is, choosing a fund that allocates either a high or low percentage of its assets to shares of AMZN.
See other ETF Head-to-Head Comparisons here.
Other Ways to Play
Investors can also take a more broad-based approach when it comes to establishing exposure to the retail industry. One way to do this is via consumer discretionary ETFs – see here.
On the other hand, investors looking to opt for an Amazon-heavy ETF are bound to miss out on the following funds as they live under the Technology Equities category instead of Consumer Discretionary:
The Bottom Line
If you're looking to make an ETF trade inspired around the holiday shopping season, be sure to look under the hood and make sure you're comfortable with the funds' underlying holdings. Upon first glance, the well-known XRT appears like the "best fit" name for accessing retailers. However, a closer look reveals that it lacks a big weighting to Amazon.com, which has proven to be a costly nuance in light of the online retailer's strong performance.
Follow me @SBojinov