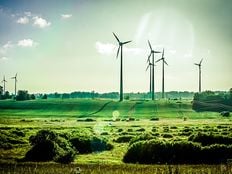 As world leaders kicked off climate change talks in Paris this week, alternative-energy investing again has come into the spotlight.
Leaders from around the globe have gathered to express their commitments to developing a realistic framework for reducing greenhouse emissions. President Barak Obama urged other countries to "rise to the moment" in the collective climate change efforts; for starters, he unveiled a $2 billion dollar program with Bill Gates aimed at boosting green energy research and development.
While it's true that in the near term, these talks are unlikely to yield anything meaningful from an environmental-change perspective, the summit in Paris marks an important milestone in the multinational fight against global warming. Not surprisingly, some investors perhaps now are reconsidering their thoughts on the subject of "green energy" in light of seeing the recent round of pledges toward the cause as a meaningful enough catalyst.
Alternative Energy ETFs in Focus During the Paris Climate Talks
Let's dive into dissecting the alternative energy ETF market, slice by slice – or rather, ETF type by type:
---
Content continues below advertisement
Clean Energy ETFs:
The ETFs under this umbrella are broad-based products, and thereby aimed to offer diversified energy to different segments of the clean energy industry, such as solar and wind power. The biggest ETF in this space, the WilderHill Clean Energy Portfolio (PBW B), also happens to boast the worst five-year return at -57%; the best five-year return comes from the Market Vectors Global Alternative Energy ETF (GEX C+), which is down 12%.
It's also worth noting GEX also boasts the best three-year return at nearly 70%.
Investors should be aware that some of these ETFs are quite top heavy, such as GEX and (QCLN B+), whereas the Global Clean Energy Portfolio (PBD B+) offers the deepest and least top-heavy portfolio from the bunch. Broad-based exposure often is synonymous with a long-term holding – in which case, costs matter a lot more than in the case of tactical, short-term exposure to a particular asset class.
In this case, the cheapest clean energy ETF is the S&P Global Clean Energy Index Fund (ICLN A+), priced at 0.47% versus the Alternative Energy Equities ETFs category average of 0.64%.
Wind Energy
There's only one ETF dedicated specifically to wind energy, and that is the First Trust ISE Global Wing Energy Index Fund (FAN A). This fund isn't necessarily a "pure play," however, as it allocates roughly one-third of its portfolio to companies deemed to derive significant portions of revenues from the wind energy industry.
Solar ETFs:
There's two ways to play solar via ETFs, and they are (TAN C+) and (KWT C+). On the performance side, consider the following five-year return chart: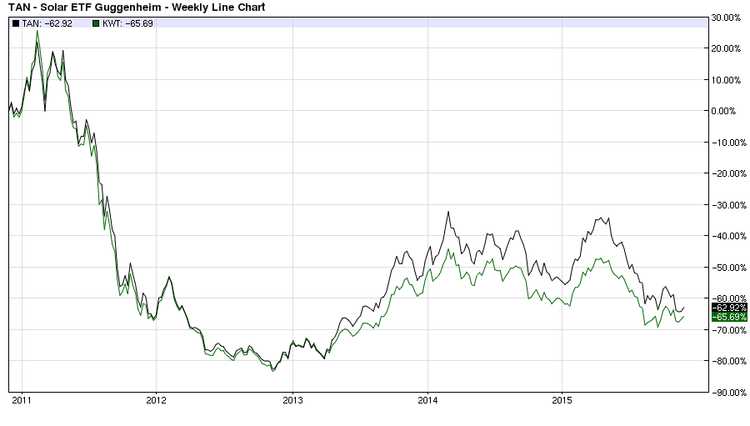 TAN has managed to deliver relatively better return than its competitor thus far, although this does not in any way suggest it will be able to continue to outperform in the future. For a more in-depth comparison, look at the ETF Head-to-Head to reveal other noteworthy points about these ETFs: TAN vs. KWT.
Other Ways to Play the Clean Energy Trend
One option that isn't so "pure play" is the PowerShares Cleantech Portoflio (PZD B), which offers exposure that straddles the alternative energy, energy efficiency and clean manufacturing industries among other eco-friendly subsectors. It's also worth noting this ETF boasts a five-year return of 28%, whereas every other broad-based clean energy ETF is negative during that time frame.
Another way to play the clean energy trend – albeit some will disagree – is via the nuclear industry; there's currently only one nuclear energy fund: the Market Vectors Uranium + Nuclear Energy ETF (NLR C+).
The Bottom Line
Some investors who haven't paid much attention to the green energy movement may be considering positions in clean energy stocks or ETFs for no good reason other than to be "on trend" right now. While this type of approach to investing certainly can prove profitable at times – that is, jumping from one fad that's in the financial media to the next – it's far from recommended. Investors who have convictions in this trend would be wise to take closer looks under the hood of each ETF in the clean energy category before making an allocation to any one product.
Follow me @SBojinov