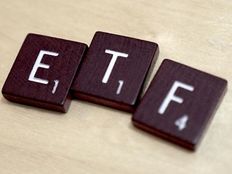 Last week was a brutal one for the stock market. The Dow Jones Industrial Average and S&P 500 Index both fell 5% in the past five days. Investors had been hoping that the market would get off to a good start in 2016 after a down year last year. But that is not the case, far from it in fact. In the first full week of trading in the new year, stocks had their worst performance in four years as well as the worst first-week performance in history.
But that doesn't mean every stock fell. For example, inverse exchange-traded funds (ETFs) did well. These are funds that take a bearish or negative stance on the market. The Direxion Daily S&P 500 Bear 3X ETF (SPXS B+) gained nearly 15% for the week. In addition, some stocks and long ETFs gained for the week. Here is a breakdown of long ETFs (those that take a bullish stance) that performed well in this very difficult week.
Stocks That Outperformed Last Week
Among last week's strong performers were Walmart (WMT), Spectra Energy (SE), Time Warner (TWX), Dominion Resources (D), and Macy's (M). Each stock did well for different reasons. In the case of Walmart, it is a deep discount retailer that stands to do well if the economy enters recession. Spectra Energy is a beaten-down energy stock in which investors saw value. Time Warner continues to benefit from strong growth of its flagship HBO and movie studio. Dominion Resources is a utility that served as a safe haven last week, and it also recently increased its dividend. Lastly, Macy's outperformed after announcing a cost-cutting restructuring, and also as an activist investor has urged the company to monetize its vast real estate holdings.
Using ETFdb.com's ETF Stock Exposure Tool, investors can analyze which ETFs are major holders of last week's outperforming stocks.
---
Content continues below advertisement
ETFs With Heavy Exposure
Funds with large holdings of Walmart include the Market Vectors Retail ETF (RTH A-) and the Consumer Staples Select Sector SPDR (XLP A), of which Walmart composes 6.24% and 5.29%, respectively. The RTH and XLP funds carry expense ratios of 0.35% and 0.15%, respectively.
Spectra Energy and Dominion Energy are, not surprisingly, commonly held in energy-related exchange-traded funds. The top ETFs that hold Spectra Energy are the Global X MLP & Energy Infrastructure ETF (MLPX ) with a 7.48% weighting to Spectra and a 0.45% expense ratio, and the Tortoise North American Pipeline Fund (TPYP B+) with a 6.83% weighting and a 0.7% expense ratio.
For Dominion, the top ETF is Reaves Utilities ETF (UTES ) with a 9.99% weighting and a 0.95% expense ratio. The second-highest holder of Dominion as a percentage of assets is the Utilities Select Sector SPDR (XLU A), of which 7.54% is Dominion stock. The fund has a 0.15% annual expense ratio.
Currently, the ETF Stock Exposure Tool lists no ETFs with significant exposure to Macy's.
Although most of these were in the red last week, they still outperformed the overall market.
The Bottom Line
Stocks took it on the chin last week. The Dow Jones Industrial Average, Nasdaq, and S&P 500 Index each declined in the first full week of trading in 2016. The sell-off was due to a variety of reasons, including escalating fears of slowing economic growth in China, and the continued crash of commodity prices. But as the old investing adage says, there is always a bull market somewhere. Walmart, Spectra Energy, Dominion Resources, Time Warner and Macy's each outperformed the broader markets last week. The ETFs that hold high ownership of these companies are listed above.
Image courtesy of Flickr.