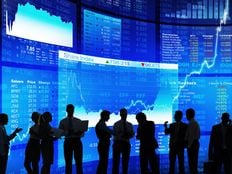 The analysts here at ETF Database researched the search patterns of visitors to our site during the past week. Below, you'll find our analysis of the top five trends. By analyzing these trends, we hope to unlock a better understanding of the investment themes trending on our site and in the market.
British Pound
Due to increased talk of a Brexit, or Great Britain's potential departure from the European Union, traffic to our British pound ETFs page surged nearly sevenfold for the week ending February 25.
Year-to-date, the CurrencyShares British Pound Sterling ETF (FXB B) is down over 5%, making it one of the worst-performing developed-market currency ETFs in that period. Great Britain has set a referendum for late June to decide its fate in the European Union. Earlier this week, FXB touched an all-time low and the ETF could come under additional pressure should currency traders price in increased odds of a Brexit coming to pass.
---
Content continues below advertisement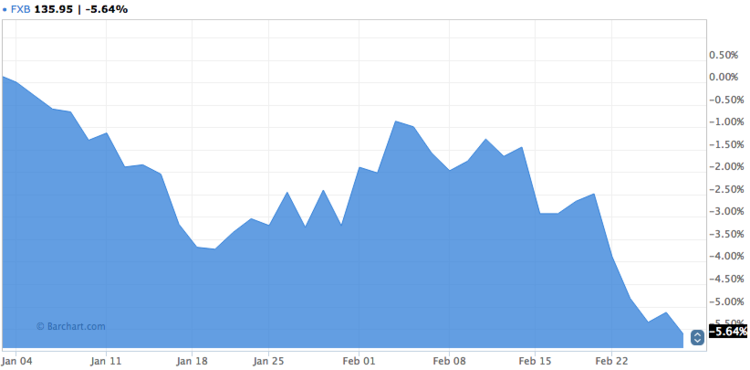 Some major banks have said that the pound could lose up to a third of its current value against the dollar if Great Britain decides to leave the European Union. However, even ambitious estimates put the odds of a Brexit at just 30%.
Mexico
On the heels of an interest rate increase by Mexico's central bank, traffic to our Mexico ETFs page has more than doubled since last week. Last week, Mexico's central bank surprisingly boosted its benchmark borrowing rate by 50 basis points to 3.75%, helping prop up the downtrodden peso in the process.
Over the past week, the iShares MSCI Mexico Capped ETF (EWW A), the largest ETF tracking stocks in Latin America's second-largest economy, is up nearly 1%.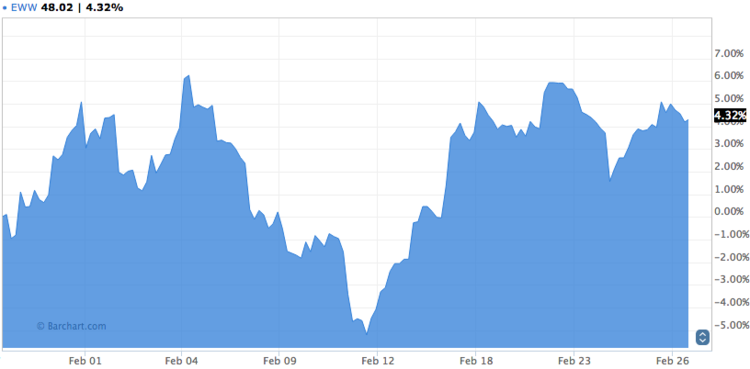 EWW is up nearly 6% over the past month, but if rates keep rising, equities might begin to decrease. However, we don't believe that scenario is likely since the central bank in Mexico said its most recent rate hike does not mark the start of a full rate tightening cycle.
Natural Gas
Some commodities and their relevant exchange-traded products (ETPs) have regained momentum this year. That theme has been stoking increased traffic to our various commodity ETFs pages, including our natural gas ETFs page, which saw traffic climb 73% last week.
For the week ended February 25, the First Trust ISE-Revere Natural Gas ETF (FCG C+), which tracks shares of 30 natural gas producers, is down nearly 4.06%. Earlier this week, shares of Chesapeake Energy (CHK), one of the largest U.S. natural gas producers and one of FCG's holdings, surged after the Oklahoma-based company's assets sales for the latter part of 2015 were higher than expected.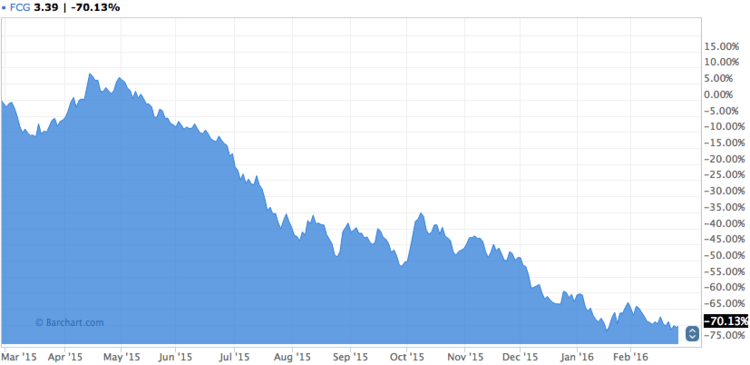 Chesapeake said it expects to step up asset sales this year as it seeks to raise cash. Further, FCG has been mired in a slump that has seen it lose more than 70% over the past year. Low natural gas prices as well as the specter of declining credit quality for some of its holdings have hurt the fund.
Tax K1 Tutorial
With it being tax season, it is not surprising that traffic to our tax K1 tutorial page climbed 40% last week.
As we note on the ETFs and tax tutorial page, "As a general rule, gains and losses for a typical ETP are reported on Form 1099, but there are a number of ETPs that are structured as partnerships and as such, will issue a K-1. Exchange-traded funds that utilize futures contracts, whether that be commodity, currency, or volatility, or any other product that is structured as a partnership, will send out K-1s. As taxes are such an important part of investing, we outline the complete list of ETFs that issue a K-1 for anyone looking to avoid a more complex tax filing, or simply to educate those who may be unaware of how their investment is treated from a tax perspective. See also The Ten Commandments of Commodity Investing."
Socially Responsible ETFs
Data indicate that investors are looking for profits by way of doing the world a good turn. Traffic to our socially responsible ETFs page climbed nearly 30% last week.
The socially responsible investing theme has gained some momentum over the past year as some large-scale investors, including endowments and pension funds, have pledged to eliminate exposure to fossil fuel stocks.
The $344.2 million iShares MSCI USA ESG Select ETF (KLD B) is one of the largest socially responsible ETFs.
The Bottom Line
Stocks are performing better this month than they did last month, but investors' thirst for risk remains slack. That much is highlighted by substantial inflows to gold ETFs and the ongoing move toward U.S. government bond funds.
At the sector level, consumer staples and utilities ETFs are among this year's best performers and top asset gatherers, underscoring that investors opting to remain long stocks are doing so with a defensive posture.
By analyzing how you, our valued readers, search our property each week, we hope to uncover important trends that will help you understand how the market is behaving so you can fine tune your investment strategy. At the end of the week, we'll share these trends, giving you better insight into the relevant market events that will allow you to make more valuable decisions for your portfolio.