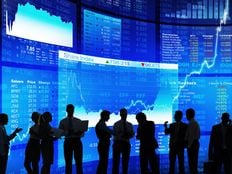 ETFdb.com analyzes the search patterns of our visitors each week. By sharing these trends with our readers, we hope to provide insights into what the financial world is concerned about and how to position your portfolio.
This week has not been marked by any significant increase in viewership, but commodities still dominated our top list, grabbing the last four positions. Telecom ETFs topped our list as well, as several telecom giants reported earnings, including Verizon (VZ) and AT&T (T). Lower in the top are silver, which is trending for the third consecutive week, agricultural commodities, metals and mining, and commodity-tracking ETFs.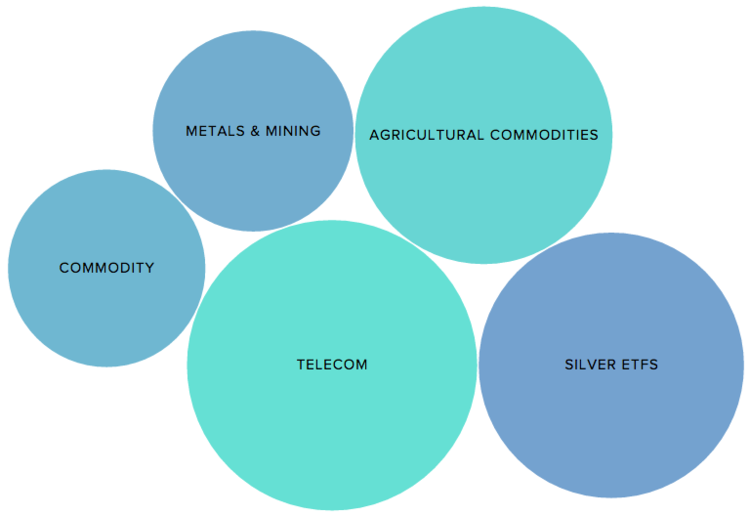 ---
Content continues below advertisement
Telecom: Unusually in the Spotlight
Our page tracking ETFs with exposure to telecom companies has topped our weekly popularity contest in a week that's been poor in headlines but rich in earnings reports. Week over week, the telecom ETFs page saw its traffic increase about 49% as many industry players reported earnings.
Indeed, industry giants AT&T, Verizon, and T-Mobile (TMUS) all reported their financial results recently. These three companies are part of the top 10 holdings of any ETF broadly covering the industry. For example, they represent almost 50% of all holdings of the Vanguard Telecommunication Services ETF (VOX B), the largest ETF with exposure to the sector.
All three companies beat analysts' consensus estimates for earnings, though not by much. But this was enough to see an uptick in their stock price and make for good returns on investment in many ETFs. VOX has risen slightly since last Wednesday and is up nearly 12% since the beginning of the year.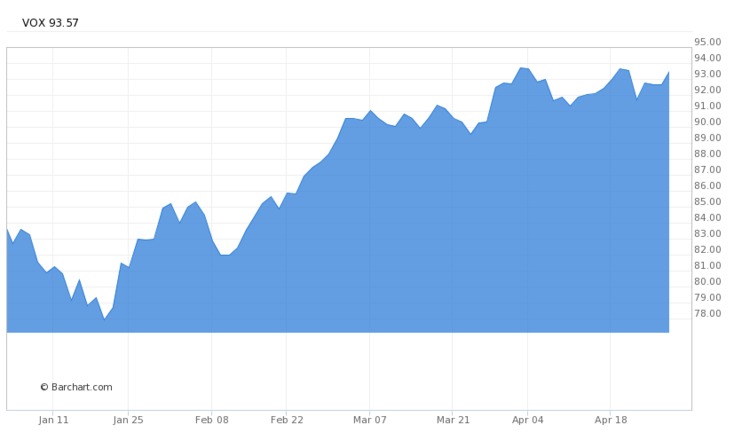 Verizon has been in the spotlight lately for reasons other than earnings, which were not stellar. Apparently, the company has the upper hand in acquiring the ailing core business of Yahoo! and its stake in Japan. The core business, though, is more interesting to the company and its investors for the synergies and cost cuts it can produce in combination with another former tech darling, AOL, which was acquired by Verizon less than a year ago.
Another Week Another Silver in the Top
It would be fair to say that silver has been on investors' minds in the past few weeks in one form or another. After our silver miners ETF page made it to our top list for two consecutive weeks, this week it's time for the commodity itself to grab a top spot. Our page tracking silver ETFs saw an uptick in viewership of nearly 36% over the past week as silver prices continued their upward trend, reaching a near one-year high on Wednesday at $17.48 an ounce.
The shiny metal is continuing its ascent in an attempt to catch up with gold. Indeed, the gold/silver price ratio has dropped further this week to 71. Attentive readers will notice that in our last trends article, we reported a ratio of 75. The recovery of silver prices has inevitably attracted our readers to visit the page and investors to the ETFs. However, the iShares Silver Trust (SLV B-) has experienced a less dramatic rise this week, jumping a little over 1% and extending year-to-date gains to as much as 24%.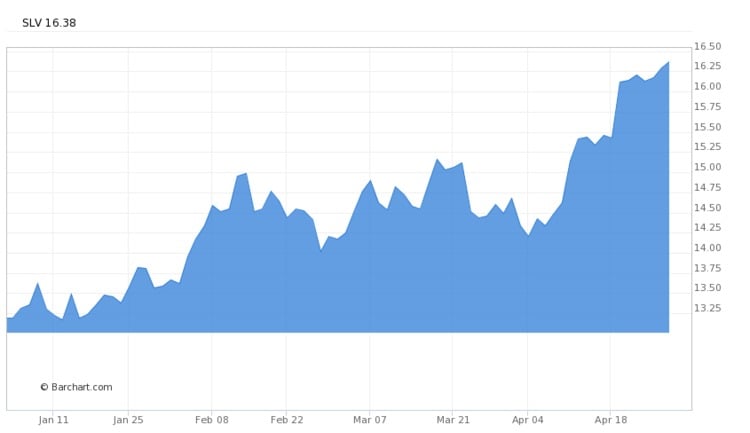 Agricultural Commodities: Moving Sideways
It is an undisputed fact that agricultural commodities have been volatile lately, although much less so than their counterparts extracted from the ground. There is also another important distinction between the two: most traditional commodities have been moving downward, while agricultural raw materials have seen movement both ways. Week over week, our ETF page tracking commodities saw a spike in viewership of 34%, closely behind silver. But the performance of these ETFs is mixed. The PowerShares DB Agriculture Fund (DBA A) is up 1.5% since the beginning of the year, though the fund has fallen 1.2% since last Wednesday.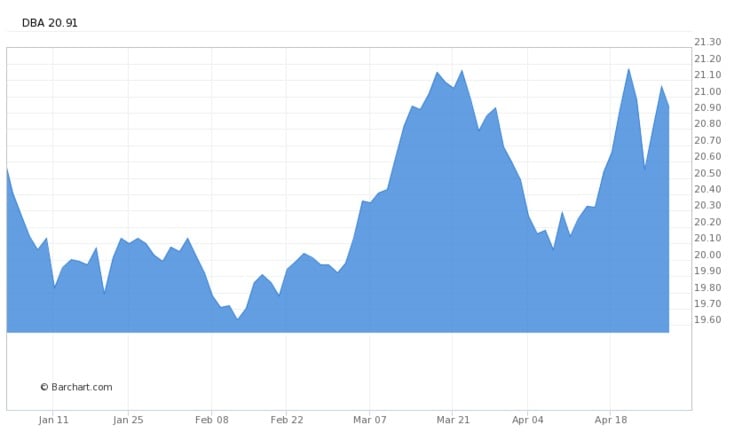 Metals and Mining: Bulls Take Over
There are only two ETFs with exposure to mining companies in our database, but that was enough to convince readers to check out our page covering the asset class this week. Indeed, the number of readers increased by about 28% week over week, mostly because of a strong rebound by many of these stocks as commodity prices seem to have turned a corner. The SPDR S&P Metals and Mining ETF (XME A-) has added 2% since last Wednesday, extending year-to-date gains to as much as 60%.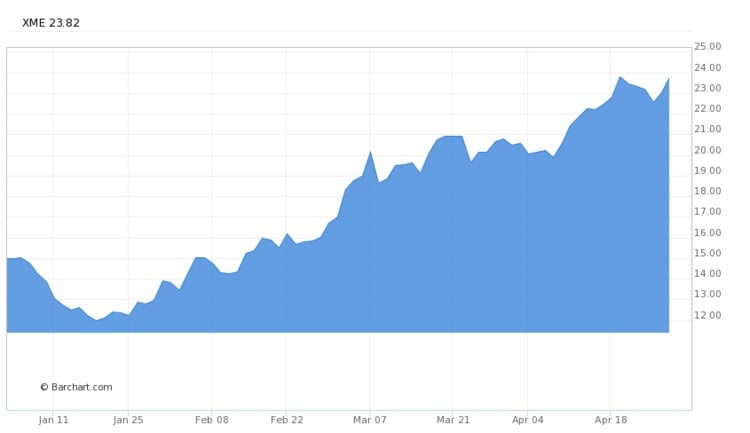 However, XME remains down 14% over the past 12 months. It remains to be seen whether the recovery in commodity prices will continue or if the current rebound will prove a correction before another selloff ensues.
Commodities: Volatility Here to Stay
Completing our list of trending pages is one tracking all ETFs with exposure to commodities. No doubt, volatility in the commodity markets has grabbed attention for a while and will most likely continue to do so in the near future. Until commodity prices find stronger footing, volatility is likely here to stay.
The commodity ETFs page saw viewership increase 22% week over week. The WisdomTree Continuous Commodity Index Fund (GCC A), an ETF with exposure to many types of commodities including agricultural, has fallen slightly since last Wednesday but is still up nearly 6% year to date.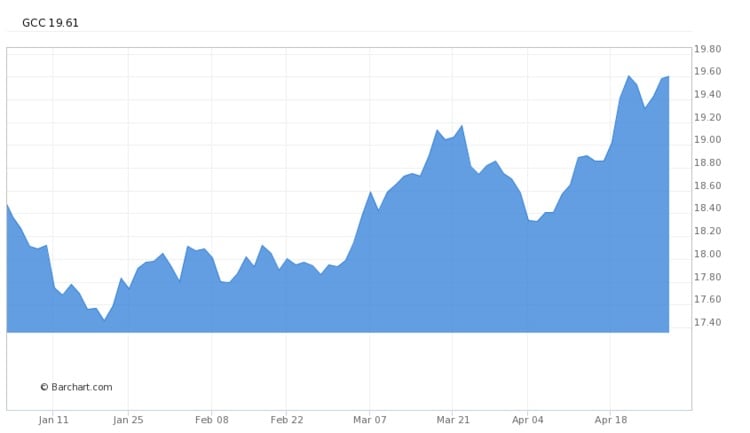 The Bottom Line
It has been a while since commodity ETFs did not occupy a single position on our trends list. This week, the raw materials ETFs have been very popular, taking the last four spots, as the rebound in commodity prices continued. Telecom ETFs have taken the first place as many industry players reported financial results for the first quarter of the year, while Verizon's attempt to acquire Yahoo! also grabbed the headlines.
By analyzing how you, our valued readers, search our property each week, we hope to uncover important trends that will help you understand how the market is behaving so you can fine-tune your investment strategy. At the end of the week, we'll share these trends, giving you better insight into the relevant market events that will allow you to make more valuable decisions for your portfolio.