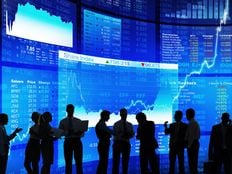 ETFdb.com analyzes the search patterns of our visitors each week. By sharing these trends with our readers, we hope to provide insights into what the financial world is concerned about and how to position your portfolio.
It has been a while since we had a macro-central theme dominating our trends list. This week, it seems that readers were mainly concerned with one thing: the possibility of the Federal Reserve hiking interest rates when it meets next month. Indeed, the U.S. dollar and financial equities have risen somewhat since the news broke out, while the yields on ten-year Treasury notes have increased slightly. These three asset classes are present in the list of trends for this week, along with currency ETFs and European Equities, which have jumped in tandem with the U.S. equities.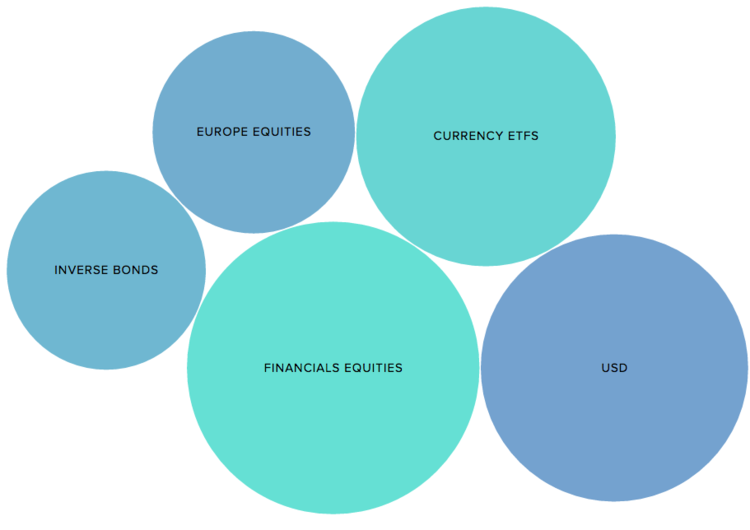 ---
Content continues below advertisement
Financial Equities: The Fed's Lending Hand
The Financials Equities page, which tracks all ETFs with exposure to the banking sector, has seen 115% more viewers in this past week compared to the last, as many of them have started to rise following hawkish signs from a number of Fed officials. For example, the iShares U.S. Financials ETF (IYF B+) has jumped more than 3% over the past five trading days, bringing year-to-date performance into positive territory.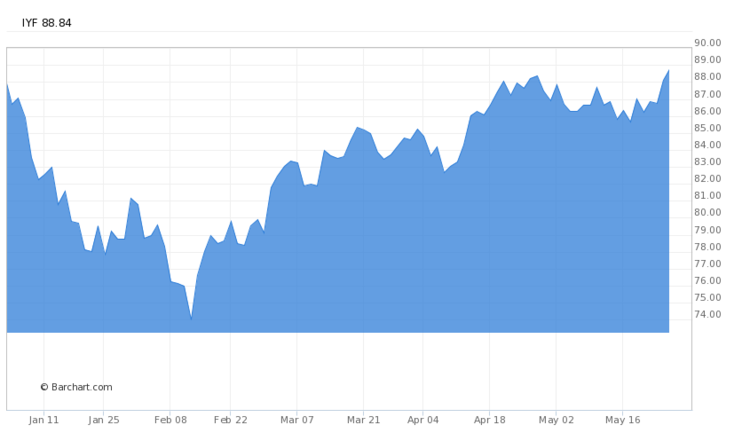 The Federal Reserve hinted, about a week ago, at the possibility of an interest rate hike in June, when it released its minutes, suggesting the voting members favored a lift-off if economic conditions continued to strengthen along with the labor markets. That view has been reinforced several days ago by Boston Fed President Eric Rosengren and St. Louis Federal Reserve President James Bullard, both of whom suggested conditions are close to being met for a June hike.
Large banks of all stripes have had a hard time since the financial crisis in 2008. Many of them weathered the immediate storm but faced tough environments thereafter as interest rates across the developed world stood at historically low levels. Now, they have at least a partial reason to celebrate, given that the Federal Reserve is likely to increase interest rates next month. Banks usually perform well during rising interest rate environments because they can charge higher rates on loans, as well as benefit from wider spreads. To find out more about this phenomena, read Interest Rates and Financial ETFs: What Investors Need to Know
U.S. Dollar: Cautious About Going Long
The greenback has taken a beating this year, despite predictions that it will continue its last year's upward trend. Now, with the Federal Reserve on track to increase rates next month, bullish dollar traders could be vindicated. Our page tracking three ETFs with exposure to the dollar saw its viewership increase nearly 53% week-over-week on the increased possibility of the currency to resume its ascent. PowerShares DB US Dollar Index Bullish Fund (UUP B), an ETF tracking the dollar index, has risen slightly over the past five days.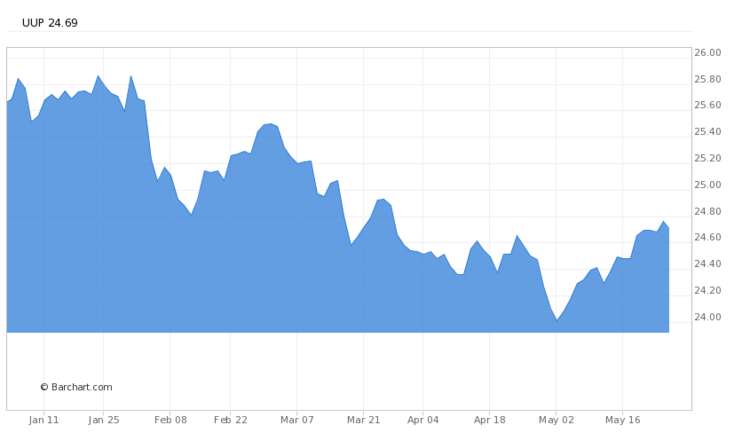 The long dollar fund is still down about 4% since the beginning of the year. However, the negative performance may not be there for long, given the slew of positive economic data coming in. The US economy has added more than 200,000 jobs per month on average over the past year, and inflation, while still not meeting the Fed's target of 2%, has shown signs of improvement lately. The consumer price index rose the most since 2013 in April, by 0.4% month-over-month, and climbed 1.1% in the twelve months through April.
But investors have been cautious about placing long dollar bets in large amounts for the fear of being caught wrong-footed, as many of them were at the beginning of this year. Still, if the incoming data will continue to be strong, the long dollar theme could again stick with investors.
Currency ETFs: Seeking Volatility
Three predominant themes have created volatility in the currency markets lately. Perhaps, the most important was the Fed's interest rate hike possibility, which reversed somewhat a sell-off in the greenback. But the Brexit referendum has also stoked volatility, mainly in the pound, though. Our page tracking currency ETFs saw its traffic rise 26% week-over-week.
Guggenheim CurrencyShares British Pound Sterling Trust ETF (FXB B) has gained about 1% over the past week, as fears of Britain leaving the European Union eased following polls showing there is growing support for the country to remain in the union.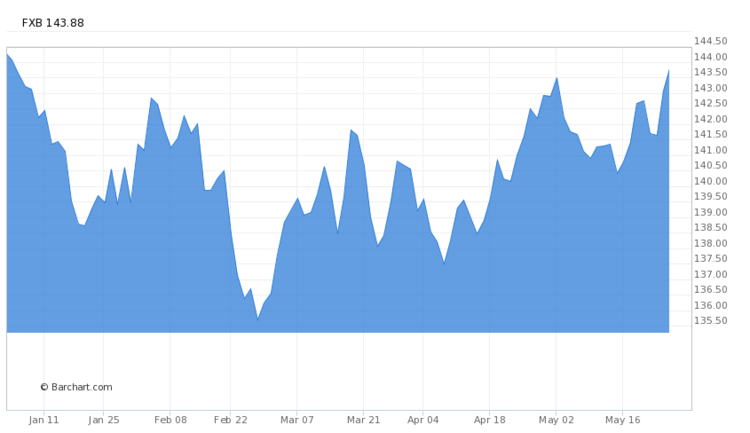 Emerging market currencies have also been boosted by rebounding oil prices, with Brent crude crossing the $50 per barrel mark on Thursday. WisdomTree Emerging Currency Strategy Fund (CEW A) is up more than 3% over the past three months.
European Equities: Back in Fashion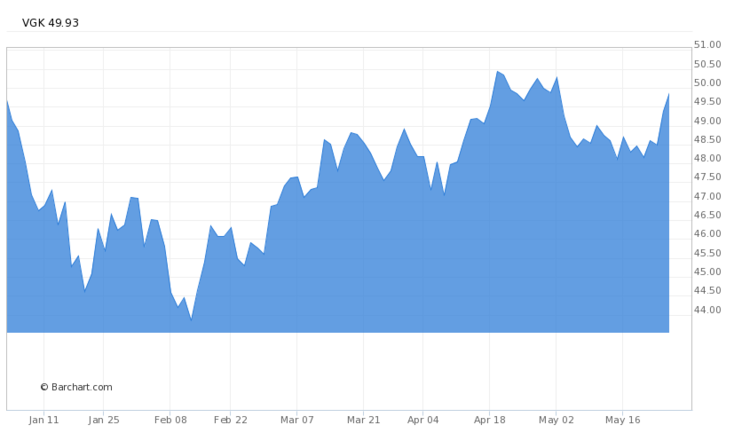 Investors have probably awakened to the fact that the European Central Bank is running a QE program, and the American economy is robust. European stocks have risen in line with their US counterparts over the past week, but they are still far from their peaks reached about a year ago, when they were the top pick of many analysts and investors. The European equities could again draw investors' attention if emerging markets—to which these companies are heavily exposed— stage a recovery with the help of rebounding oil prices, and domestic demand picks up.
Inverse Bonds: On the Lookout for a Lift-Off
The viewership of our page tracking ETFs that short bonds increased about 14%, as investors are on the lookout for shorting the bond asset class once the Fed raises rates. But many traders betting against bonds have proved wrong so far this year, as many short ETFs are down considerably. iPath US Treasury 10-year Bear (DTYS B+), for instance, has tumbled 24% since the start of the year, and posted flat gains over the past five days, showing investors are not yet persuaded that a Fed lift-off will increase yields and provide weak performance in bonds.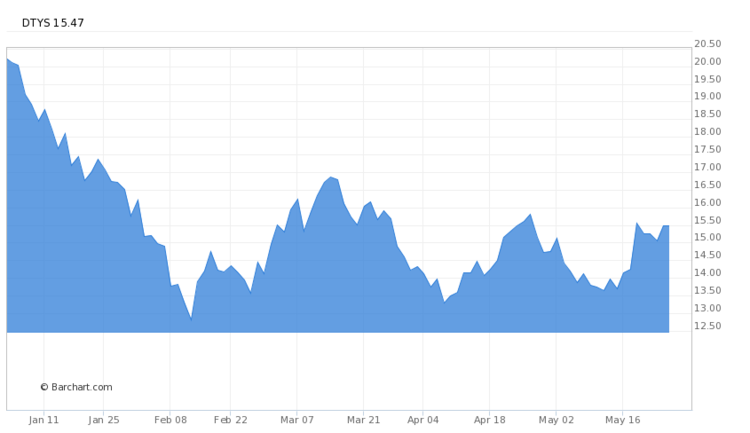 The Bottom Line
This week was all about the Fed's signal that it may raise interest rates in June. All five trends present in our list could be linked to those news in one way or another. Financial Equities have been boosted by the news because they are expected to benefit from rising interest rates, along with the dollar and European equities. Inverse bonds ETFs, on the other hand, have garnered interest largely for the reason that fixed income securities may suffer from a rate hike. Finally, currency ETFs are present in our list likely because of increased interest for the greenback.
By analyzing how you, our valued readers, search our property each week, we hope to uncover important trends that will help you understand how the market is behaving so you can fine-tune your investment strategy. At the end of the week, we'll share these trends, giving you better insight into the relevant market events that will allow you to make more valuable decisions for your portfolio.