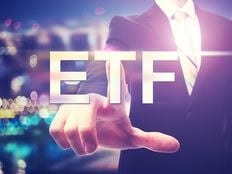 Sometimes when it comes to new exchange traded fund (ETF) launches, product developers are all thinking the same thing. For this week's round of launches, the common thinking was bonds, with fixed income sectors and various IOUs dominating the week's new ETFs hitting the tape. This included three new actively managed funds from investment advisor RiverFront, as well as two new ETFs from dominant leader iShares.
All in all, the new funds will enable investors to tackle some new bond sub-sectors, as well as new smart-beta/fundamental twists on fixed income investing. As always, the new ETFs continue to expand investors' toolbox.
RiverFront Gets Active
Despite managing more than $5.3 billion, independent SEC-registered investment advisor RiverFront Investment Group isn't exactly well known in the industry. But it's not new to the ETF game by any means: the firm already sub-advises on five different actively managed ETFs. However, RiverFront itself doesn't actually sponsor these funds. It partners with other issuers and just manages the ETFs. With its latest three ETFs launching on June 14, RiverFront continued with that model.
Up first is a pair of funds issued through ALPS. The RiverFront Dynamic Core Income ETF (RFCI C+) and RiverFront Dynamic Unconstrained Income ETF (RFUN B-) follow a similar mandate of trying to generate a high total return—with the income side producing the vast bulk of the returns. Both funds have similar management styles in which they use a patent-pending Mean-Reversion Optimization (MRO) process to determine the weight among various fixed income sub-sectors. These include corporate bonds, treasuries, municipal bonds, high yield debts, convertible/preferred securities and mortgage-backed bonds (MBS).
The real difference between the two funds is that RFCI caps the amount of international and foreign issued bonds at 10% of assets. RFUN has no such restrictions, hence the "unconstrained" name. This produces two vastly different takes on the "core" style bond fund. Both funds charge just 0.51%, or $51 per $10,000 invested in expenses.
RiverFront's second fund comes courtesy of leading ETF issuer First Trust. The First Trust RiverFront Dynamic Emerging Markets ETF (RFEM B-) was also launched on June 14. However, instead of focusing on fixed income, the actively managed ETF will hone in on stocks—specifically emerging market stocks.
The "Dynamic" in its name comes from two points. First, this ETF will use various fundamental screens to help managers pick the ETF's underlying portfolio. Second, its adaptive hedging scheme will use forward foreign currency exchange contracts to hedge anywhere from 0% to 100% of the fund's currency exposure. Expenses for RFEM run at a rather expensive 0.95%.
---
Content continues below advertisement
iShares Copies a Success
So-called "me too" funds aren't something new in the ETF industry. Often they come from some institutional investor having a deal with one of the larger fund sponsors and wanting access to an asset class covered by another issuer. That may be what happened when iShares launched the iShares Fallen Angels USD Bond ETF (FALN A+) on June 14.
FALN will track so-called "Fallen Angel" bonds. These bonds were recently considered investment grade but for whatever reason have been downgraded to junk status. Investors can use them to pick up some extra yield without adding much risk. And that's basically the bailiwick of the $195 million VanEck Vectors Fallen Angel High Yield Bond ETF (ANGL A-).
The second of iShares' launches is the High Yield ex Oil & Gas Corporate Bond ETF (HYXE B), which removes the problem of sourcing oil and gas loans from junk bonds. The parent index of the very popular iShares iBoxx $ High Yield Corporate Bond ETF (HYG B+), HYXE basically removes the nearly 10% of energy bonds from the broader Markit iBoxx USD Liquid High Yield Index. Expenses for FALN and HYXE run 0.35% and 0.50%, respectively.
The Bottom Line
This week's slathering of new ETFs ultimately will provide some new inroads into fixed income and bond investing. From active management to smart-beta techniques, this week's new funds have it all.