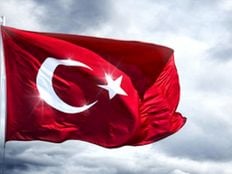 ETFdb.com analyzes the search patterns of our visitors each week. By sharing these trends with our readers, we hope to provide insights into what the financial world is concerned about and how to position your portfolio.
Emerging markets, particularly Turkey, have been on investors' lips this week as the government experienced a short-lived attempt of being ousted by parts of the military. Turkey's failed coup has also directed readers' interest to the broad emerging markets asset class and Russia. In addition, cotton has taken the second place in our list and the Dow Jones Industrial Average last place.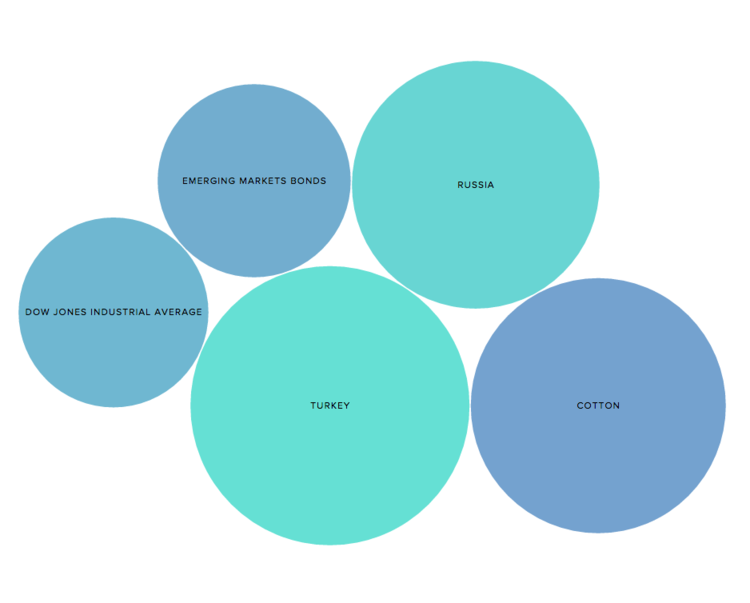 ---
Content continues below advertisement
Turkey: A Coup That Puts Investors on Guard
Last weekend was strange for Turkey's citizens – although probably not surprising given the country's history of military coups. The unexpected events surprised everyone and made investors turn their attention to the country's stocks. The only ETF covering Turkey equities has seen its viewership climb a staggering 4,625% compared to the week-ago period. In spite of the unsuccessful coup attempt, Turkey's equities have failed to recover since last weekend and, in fact, trended lower – reflecting investors' concerns about the coup's aftermath. iShares MSCI Turkey (TUR A-) has dropped 17.4% over the past five days, erasing all year-to-date gains and bringing the index slightly into negative territory, at 0.85%.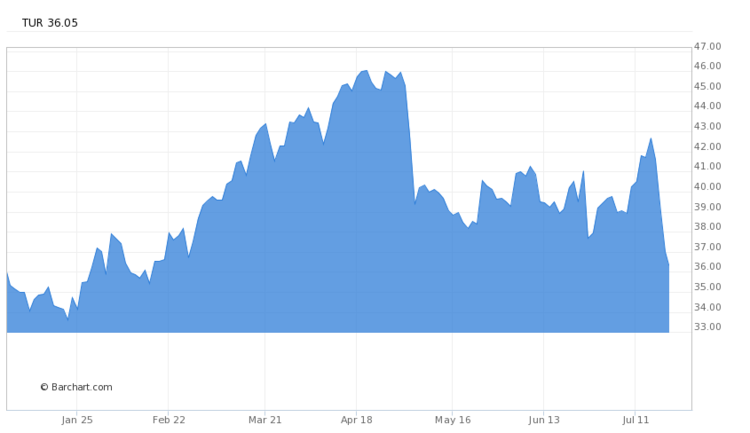 Turkey's equities may be seen as a bargain by some investors who would bet that the political turmoil will abate sooner rather than later, but so far the events have pointed to a deterioration of the country's political and geopolitical prospects. The country is boldly stepping into the unknown by purging thousands of civilians, military personnel and government workers believed to have ties to the coup's organizers. The move was criticized by the country's Western allies and U.S. Secretary of State John Kerry even warned that Turkey may lose its NATO membership if the purges don't stop. But Turkey remains a headache not only for Western governments, but also for investors. It becomes increasingly less predictable. Earlier this year, Turkey soured its ties with Russia after it downed a Russian jet. The relations are apparently normalizing with the Turkish government apologizing for the incident. But investors certainly do not like these back-and-forth affairs and will tread carefully.
Cotton: Jumping Unsustainably
Cotton futures have been volatile lately and recently reached new two-year highs. The surge attracted 360% more viewers this week compared to the same period last week. Although iPath Bloomberg Cotton SubTR ETN (BAL B+) is down about 2% since last Thursday, year-to-date the note remains up as much as 14.6%.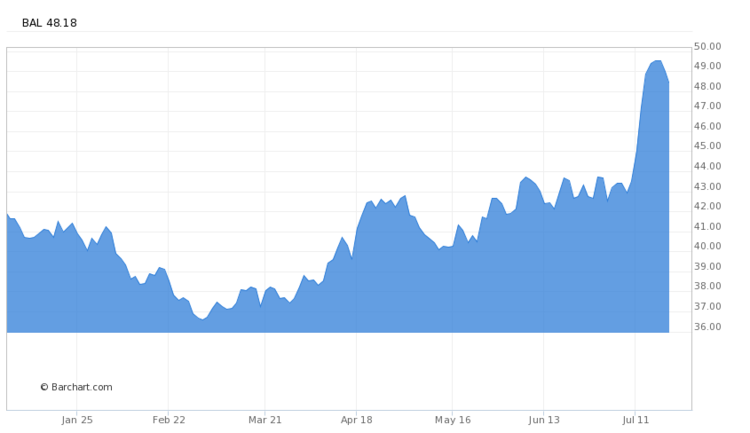 The spike has been a surprise to many market watchers given the weak demand across the board. The move has most likely been driven by speculators after the U.S. Department of Agriculture said global reserves would fall 9 million bales to 91.3 million by the same period next year. It cited a surge in demand from China as its main reason for the drop.
The upward movement is unlikely to last. Fundamentally, cotton faces increased competition from alternatives such as synthetic fibres and polyester, which has benefited from weak oil prices lately. Any spike will face some sort of resistance from decreased demand as users seek for cheaper alternatives when cotton trends higher.
Russia: Geopolitics Hurts Prospects
Traffic to Russia's ETFs has increased nearly 156% this past week compared to last, reflecting investors' concerns about the broad emerging markets asset class following the failed coup attempt in Turkey. Russian equities have been flat over the past five days, although volatile. iShares MSCI Russia Capped (ERUS B) has risen 0.94%% since last Thursday, year-to-date the equities remain one of the best performing assets, up 25.79%.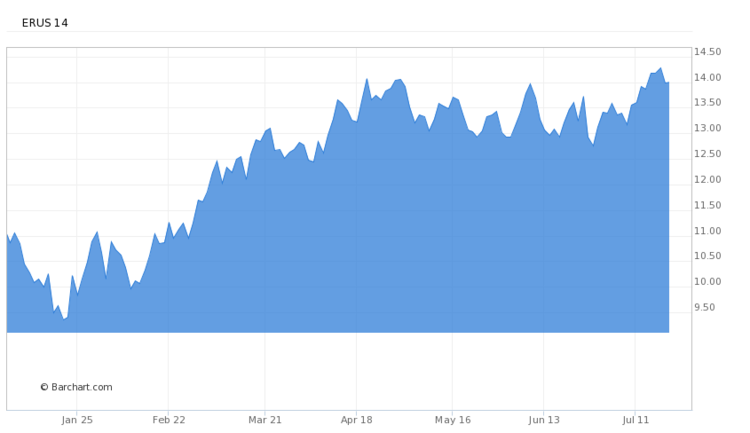 Russian equities have been steadily recovering since a fall in oil prices battered the ruble and the country's economy, sending it into a recession that has not ended yet. However, the ruble has been strengthening against the dollar this year, up 15%, and the country's financial reserves and current account surplus have improved. The country's stock market trades at a deep discount – two-thirds of book value. But investors remain wary of heightened geopolitical risks stemming from the country's worsening relationship with the Western countries and bad economic prospects. Russia is in no rush to adopt GDP-boosting reforms.
Emerging Markets Bonds: Risk On
Emerging markets bonds are experiencing renewed interest from investors because of their attractive yields compared to other developed markets bonds. ETFs tracking these assets are the main beneficiaries of this risk-on mood. Emerging markets bonds have seen their viewership rise 51% this week compared to last, as investors flocked to the ETFs tracking the securities in search for yield. Vanguard Emerging Markets Government Bond ETF (VWOB A) has fallen slightly over the past week, but year-to-date it has risen more than 9%.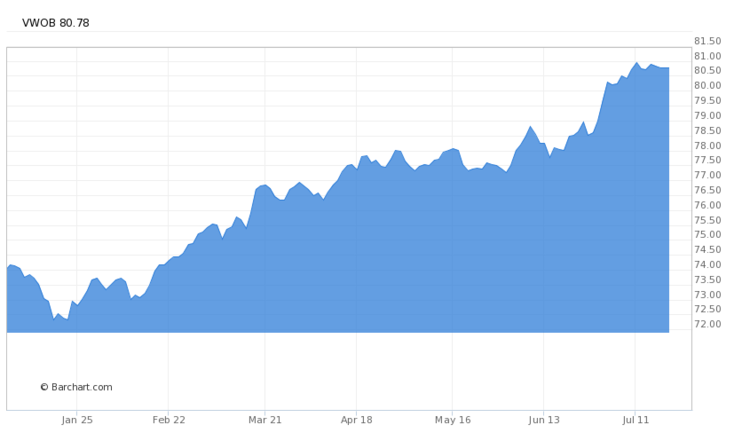 Emerging markets ETFs have seen $8.3 billion inflows this year, more than triple the same period last year. Many emerging markets – including Russia and Brazil – have stabilized since the debacle triggered by the fall in oil prices, while fears about China's economy proved overblown. In addition, the Brexit referendum has further depressed yields in developed countries with Britain promising to ease monetary policy and the U.S. withdrawing from a commitment to raise interest rates. The yields in many EU developed countries are in negative territory, as are Japan's, making emerging markets relatively attractive for bond investors.
Dow Jones Industrial Average
Dow Jones Industrial Average has taken the last spot in our weekly list with a 42% increase in viewership. This week, the benchmark index reached new all-time highs, as investors ignored Britain's exit from the EU and cheered news of a bumper jobs report along with a signal from the Federal Reserve that it will not raise interest rates soon. Expectations of a new round of easing from central banks all over the developed world have also boosted investor optimism.
SPDR Dow Jones Industrial Average ETF (DIA B+) has jumped 1.2% over the past five days, extending year-to-date gains to as much as 6.8%.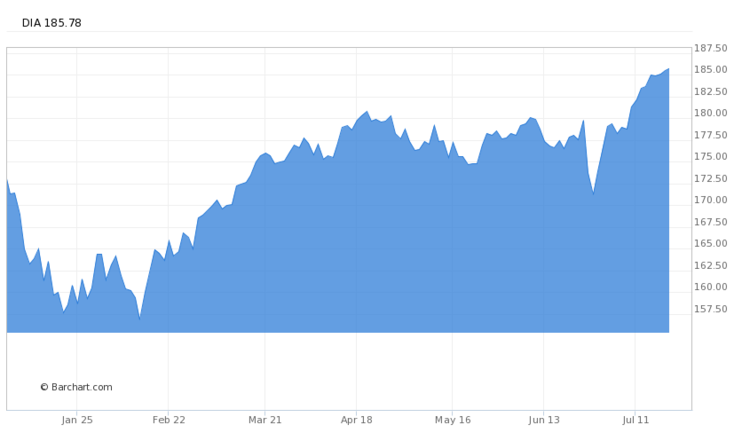 The Bottom Line
Turkey's failed coup has directed readers' interest to emerging markets. Investors have dumped Turkey's equities but piled into emerging market bonds and Russian stocks – both of which look attractive now that the developed markets are likely to have low rates for longer than previously thought. The surprising speculative bump of cotton has also caught investors' eyes, while the Dow Jones reaching new highs raised eyebrows.
By analyzing how you, our valued readers, search our property each week, we hope to uncover important trends that will help you understand how the market is behaving so you can fine-tune your investment strategy. At the end of the week, we'll share these trends, giving you better insight into the relevant market events that will allow you to make more valuable decisions for your portfolio.