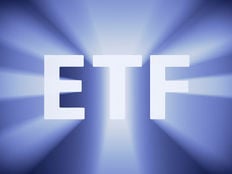 This week's round of new exchange traded funds (ETFs) came courtesy of one issuer: Direxion. Known for its suite of leveraged and inverse ETFs, Direxion has become a popular favorite fund sponsor among traders and shorter-termed investors. It's a popular issuer among ETF pundits as well – thanks to its clever tickers. This week, it received two more ways to potential juice its returns or take a contrarian view on a sector.
A Short View on Gold
Views on gold tend to be polarizing. The precious metal is either loved or hated. As a result, the Direxion Daily Gold Miners 3X Bear Shares (DUST A-) and Direxion Daily Gold Miners 3X Bull Shares (NUGT B-) have become uber-popular with investors. Building on that popularity, the fund manager launched the Direxion Daily Gold Miners 1X Bear Shares (MELT ) on July 27.
Like DUST and NUGT, MELT will track the same underlying index, the NYSE Gold Miners TR Index. The so-called "Gold Bugs" index is a measure of the largest and most liquid gold miners trading across the globe. The index defines "gold miners" as those firms that receive the vast bulk of their revenues from activities related to the precious metal. Although, many of the firms in the index also have some production related to copper and other metals/minerals.
MELT is similar to DUST in that it offers inverse exposure to the index. If the index goes down, then MELT/DUST will go up. However, unlike the popular DUST, MELT does not use leverage. It only offers daily inverse (100%) performance of the index.
While the ability to go short without the leveraged will be welcomed by some investors, the real reason behind the launch – and several others that have predated it – may have more to do with future regulation. Direxion and other leveraged/geared ETF providers have come under fire from legislators and regulating bodies in recent months. By getting ahead of rivals, Direxion could be looking to keep its status as one of the preferred providers of inverse ETFs in case of some hard legislation.
Expenses for MELT are just 0.45%, or $45 per $10,000 invested.
---
Content continues below advertisement
A Long View on European Banks
Direxion's next launch takes it back into familiar territory, adding some juice to a particular sector. In this case, it's European banks with the Direxion Daily European Financials Bull 2X Shares (EUFL B-).
EUFL will track the MSCI Europe Financials Index. This is a measure of mid- and large-cap banks, insurance agencies and other investment/asset managers domiciled in developed-market Europe. All in all, the index tracks roughly 100 different banks. This includes firms from nations such as the United Kingdom, Switzerland, Germany, France and Italy, as well as others. This includes both European Monetary Zone banks and those that use their own local currencies. European banks have been in the spotlight lately – thanks to events such as Brexit and Italy's recent non-performing loan plan.
The new ETF will provide two times (200%) the daily return of the index. This is also a slight departure for Direxion, as is it has mostly been an issuer of 3x leveraged products. Again, the slight reduction in leverage could be to placate future regulation of leveraged products. Either way, EUFL is the only "geared" ETF that tracks them.
Expenses for the new ETF run at 0.80%per year.
The Bottom Line
Given the continued popularity of the gold miners and the recent issues facing European banks, Direxion may have two hits on its hands. MELT should appeal to those investors looking to short gold without the added juice of leverage, while EUFL provides just enough "oomph" to a very volatile sector.