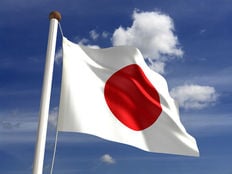 Japan's economy has been struggling with deflation over the past two decades. With the situation only getting worse, many economists believe that the Bank of Japan may have to resort to more extreme measures – like so-called helicopter money. These unconventional and untested policies would involve the central bank directly financing government debt to fund fiscal stimulus programs that would aim to improve the economy.
In this article, we will take a look at the failure of Abenomics, how helicopter money could help and why investors should keep a close eye on the Bank of Japan in September.
Abenomics Failure
In 2012, Prime Minister Shinzo Abe took power and introduced a combination of fiscal stimulus, monetary easing and structural reform, which became known as Abenomics. These policies were successful in boosting inflation to nearly 4% by early 2014, but these inflationary trends proved difficult to sustain and inflation has since fallen back to below the zero mark.
---
Content continues below advertisement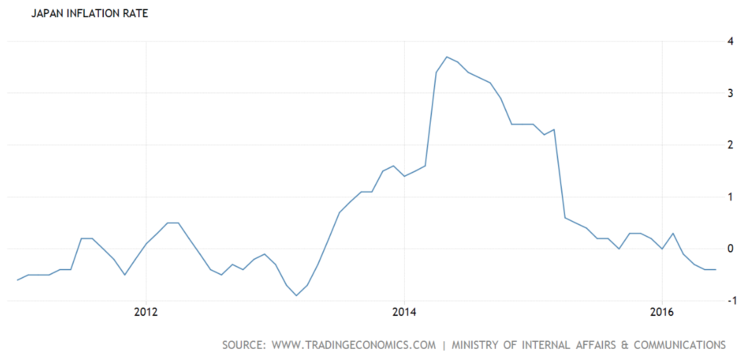 Despite lowering interest rates into negative territory in early 2016, the Bank of Japan has been unsuccessful in stemming the rise of the Japanese yen. The USD/JPY currency pair is hovering around the $100 mark following Brexit, when investors bought up the yen as a safe-haven asset class in the wake of the British pound's depreciation. These dynamics have made Japan's exports more expensive and exacerbated its economic growth woes.

The Japanese economy barely grew during the second quarter, with gross domestic product (GDP) increasing at an annual rate of just 0.2%. The stronger yen caused exports to fall 5.9% during the quarter, as its products became more expensive in foreign currency terms. Consumer spending partially offset that weakness by rising 0.6%, while the government revised first-quarter growth up to 2% – a stronger than expected figure.
Helicopter Money
Many economists believe that helicopter money may be the only viable solution for the Japanese economy. The concept, originally introduced by American economist Milton Friedman many years ago, became popularized when former Federal Reserve Chairman Ben Bernanke mentioned it in a 2002 speech as a way central bankers might finance government budgets directly with monetary easing to fight deflation.
The Japanese government has made it clear that it doesn't intend to directly implement helicopter-money policies to finance government spending directly with perpetual bonds. Rather, officials have hinted that they may combine fiscal and monetary expansion, while maintaining central bank independence. The early signs of these types of arrangements may have surfaced with the government's new stimulus package worth more than 5% (28 trillion yen) of its GDP.
Investors will be closely watching the Bank of Japan's upcoming September meeting where policymakers will discuss expanding its quantitative easing efforts. With slowing growth in the second quarter, policymakers are likely feeling pressure to increase their efforts to combat deflation, as the yen continues to gain ground against both the dollar and the euro. Some even continue to speculate the central bank could pursue an outright helicopter-money policy.
Potential Opportunities
Investors may want to keep an eye on Japanese exchange-traded funds (ETFs) as potential opportunities to capitalize on any unexpected announcements next month.
Some popular Japanese ETFs include:
| Ticker | Name | Assets Under Management |
| --- | --- | --- |
| (EWJ ) | iShares MSCI Japan ETF | $14.1B |
| (DXJ ) | WisdomTree Japan Hedged Equity Fund | $6.9B |
| (DBJP ) | Deutsche X-trackers MSCI Japan Hedged Equity ETF | $1.3B |
| (HEWJ ) | iShares Currency Hedged MSCI Japan ETF | $517.4M |
These ETFs could see significant upside if the Bank of Japan surprises the market with any unexpected easing announcements, including helicopter-money policies. Since the yen could weaken from any announcement, currency-hedged ETFs could benefit the most from any moves that would weaken the currency. Many of these ETFs have fallen sharply lower over the past year, due to the strengthening yen versus the dollar.
The Bottom Line
Japan's economy has struggled with deflation for more than two decades and many economists believe that more extreme measures may be needed to reverse the trend. Helicopter money has been thrown around as such a measure, although Japanese policymakers have denied they are considering directly implementing such a program. That said, investors may want to keep an eye on the Bank of Japan's upcoming September announcements just in case.